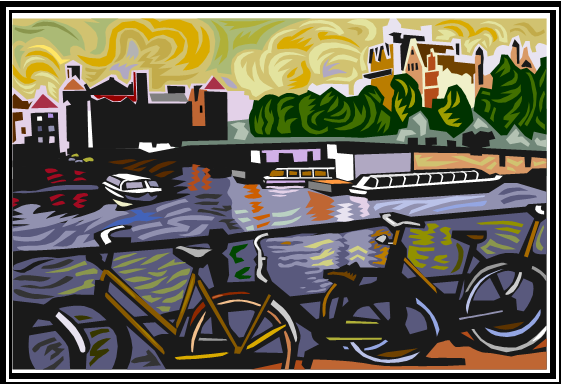 BUSING ON THE RIVER
PART ONE OF A TWO-PART SERIES BY SENIOR CONTRIBUTING EDITOR RICHARD BRUCE TUREN
"Both high and low water levels can cause problems and unfortunately there's no way to predict when that will happen. I feel that you kind of have to just take your chances. The year we went it was low water that was the issue. The previous year it was high water"   European River Cruiser "Patty" posting on Fodor's.com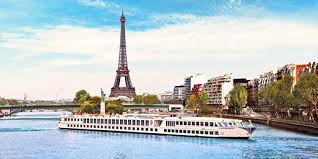 The number of clients choosing to sail Europe's major rivers is growing at an unprecedented rate. This year the number is expected to exceed 500,000 guests from the United States and Canada. This represents a 700% increase in the number of river cruisers since 2001, a figure compiled by Viking River Cruises, the line that has managed to capture about 50% of that business.
You've seen those wonderful Viking ads. They are beautifully photographed and the entire industry has surely benefited by the images they project.
River cruising has become the fastest-growing segment of the travel industry by almost any measure. And it is easy to see why.
The rivers are calm – always calm, sometimes even serene. The boats seem to carry just the right number of guests as bridge heights and canal passages pose serious design restrictions that limit the number of guests. When Viking says its boats sail "to the heart of Europe" there is no disputing that statement.
A seven-fold growth in the number of Americans experiencing river cruising means that the perspective new client may know someone who has just returned from the experience. If they don't, they are likely turning to various "forums" which print the views of self-appointed "critics". And a great deal of what they are reading is, let's be honest, a bit scary. It seems that the rivers of Europe can flood at any time making the deliverance of an itinerary as promised in the brochure unlikely. Drought in the warmer months is just as serious a problem. It seems that you can never predict water levels so you are playing a kind of Russian Roulette when you book a river cruise. The forums carry stories of cruises turning into bus tours and paltry future cruise credits.
As the owner and Managing Editor at a web site devoted to river cruising, I have seen our team deluged with questions regarding water levels, the safest time of the year to book, and questions regarding refunds should a cruise turn into some hybrid bus tour punctuated by nights on aboard a boat that may actually remain docked instead of sailing.
Here are some things I think we have to tell our clients as concerns full disclosure. Remember the legal test of liability. Is it reasonable to expect that, in your professional life as a travel consultant, you would have read or directly heard about water level issues and docking problems on Europe's major waterways? Is it reasonable to assume that you have either had or heard about clients whose vacation was negatively impacted by changes to their itinerary?
In my view, if the answer to these questions is "yes" then you have an obligation, legal or otherwise, to inform perspective river cruisers about the problem.
Now you could easily respond that we don't have any legal responsibility to inform clients booking flights that planes have gone down, that hotels have had fires, or that cruise ships have sunk. And you would be right. But the question is just how often do river boats have water level issues that impact the consumer's experience?
Writing in the Washington Post, syndicated consumer travel writer Christopher Elliott summarized river cruising this way: "The takeaway for anyone planning to take a European river cruise is clear: Don't expect it to actually be a river cruise if the weather won't allow it. You can minimize your chances of participating in an overpriced bus tour by planning your tour during the fall, which generally has more stable weather."
So what do we tell the client seated in front of us or calling to set up a vacation on the Rhine, the Danube, or the Rhone about water levels. Do we tell them "you pays your money and you takes your chances?" And what about cancel policies and advance notification of water levels? Oh, and finally, is it really true that river boats often, very often, don't have their own berths because of severe river overcrowding so guests soon learn that their balcony cabin is facing someone else's balcony cabin on the vessel right next door. Guests often have to cross over the sun deck, climbing a series of stairs, to walk across the open deck of the boat tied closest to the actual dock.
For those of you who are not fully familiar with the realities of river cruising, I hope the following observations are helpful:
01 – While September, early October, and the last three weeks of May seem to be the least likely times to experience water level incidents, the fact is that they can happen at any time. There are no water level guarantees.
02 – It would appear that the rate of affected sailings is somewhere between five and ten percent, but no one knows for sure because the river boat lines have not provided these statistics.
03 –  Height margins are critically narrow in this business. Some of the larger river boats have six-foot drafts while smaller boats may be able to navigate with a five foot draft. Given the issue of low-hanging bridges, one company may be able to sail while another will not.
04 – Water levels do not affect entire river systems. In 2013 there was historically significant flooding and portions of Passau were under water. In 2014, sections of the Danube between Passau and Regensberg were affected.
05 – The Elbe is probably the major river most prone to flooding. France has had flooding and last year authorities had to close down all navigation on the Rhone and Soane.
06 – River cruise lines are having some success by off-loading guests from a bottleneck beyond which their boat cannot proceed, and busing them to a portion of the river where an identical boat is waiting to take them on. With its huge fleet, Viking River has been able to do this with some success. Other lines are extremely careful about planning, trying to avoid some heavy traffic areas where sufficient berths do not exist. They are trying to avoid overcrowded towns by using alternative small town ports.
07 –  A fair number of guests on altered programs seem to feel that weather is beyond anyone's control and they praise the river boat line for "doing the best they could." Some river boat companies, including Tauck, now discuss the possibility of high/low water in their brochures and online videos. Tauck explains that sometimes the "River Gods" act up. But this does not mitigate the travel agent's responsibility to discuss the possibility with guests.
08 –  River levels can and do change within a three-hour window. It is virtually impossible to notify clients one or two weeks in advance of river conditions on the day they are scheduled to sail. There is a site that aggregates water levels on the major rivers called wwww.rivercruiseinfo.com But their data is based on readings from the previous day and only serve to indicate if water levels are "higher than usual" or "lower than usual" in specific locks.
09 – The more expensive, more inclusive, lines seem to have a higher satisfaction record when it comes to hotels, schedules, and the handling of modified programs. The moderately priced lines seem to often disappoint when alternative arrangements involve unsatisfactory hotels, long bus roads, and the general condition of transportation. When things go wrong, there are clear differences in the way each line handles on-the-spot changes.
10 – Future credits seem to be the accepted norm for compensation when guests arrive in Europe only to find that their itinerary has been changed. The lines seem to use a formula of 25%-75% based on the number of nights that need to be altered. Agents who intercede on behalf of their clients can sometimes achieve better results.
I have a bias here. I think that river cruising is a truly unique way to truly experience a destination without flitting about Europe like a hummingbird. I would sing the praises of this kind of vacation to anyone who will listen. But there is a growing chorus of consumer concern about the inability to obtain straightforward information about water levels and docking issues on Europe's rivers. It occurred to me that one of the reasons that we have not been getting information about this subject is that no one seems to be asking the line's direct questions about the number of affected sailings.
So I asked six of the major river cruise lines three specific questions about these issues. You will find their responses in the second half of this report.
BUSING ON THE RIVER
Part Two of a Two-Part Series By Senior Contributing Editor Richard Bruce Turen
There seem to be two major hurdles facing the companies sailing Europe's rivers. There is, first, a growing perception that a meaningful percentage of these cruises do not operate as advertised as a result of high and low water issues. This perception is largely generated by negative feedback populating the major "critic" sites as well as anecdotal evidence from returning guests.
The second perception, once that can be justified, I believe, is that Europe's major rivers are overcrowded and sufficient berthing options simply do not exist.
In editing my own site dedicated to river cruising and writing about the subject for other publications, it occurred to me that I could not recall that any journalist had asked any river cruise line for exact statistics to use as a counter argument to these perceptions. So I decided to find out what the exact numbers and statistics were for "altered" sailings in 2015 as a result, specifically, of water levels. I think that travel sellers deserve transparency on these numbers.
I also asked what early warning procedures were in place to notify guests booked on a river cruise who might be arriving in Europe to find that they might be "busing" the river rather than sailing it.
Finally, I asked each of the major lines what percentage of the time "your river boats tie-up to other river boats in port requiring your guests to cross through adjacent boats to get ashore."
For purposes of clarity, I will not draw conclusions but will, instead, take you through the responses of each line:
AMA WATERWAYS –
Rudy Schreiner, the President of AMA thought the questions were important enough to address personally. He outlined three itineraries that had to be adjusted and pointed out that the lower drafts of AMA ships as well as deployment that tries to avoid typically problematic high and low water months in Europe, allowed AMA to operate 600 cruises between May and October  with six required schedule changes. That translates to a 99% itinerary operation success rate.
AVALON WATERWAYS
We heard from Patrick Clark, the Managing Director at Avalon Waterways that "less than 1% of Avalon departures in 2015 were actually cancelled. Using the "altered" definition of itinerary changes brought about by water level issues, Avalon experienced "less than 5%" altered itinerary rate. This often meant transfer to an identical ship with "minimal disruption."
SCENIC
We received our response from the PR department at Scenic. They explained that they could not answer the question regarding altered sailings because "this is a privately held company and there is some info they will not give out." They went on to explain that their "near carbon copy" ships enable them to switch ships near the high/low water marks so there are fewer missed ports.
Although I had specifically asked about 2015, I have researched cancellations and altered itineraries for all of the river boat lines going back several years. In the case of Scenic, for instance, record flooding in Europe in 2013 resulted in river cruises being turned into partial bus tours over a six week period in Europe. This resulted in a class action lawsuit accusing Scenic of violating Australian consumer law (the company is based in Australia) by   "failing to cancel or delay cruises, offer alternative tours, or warn of expected disruptions."
I point this out because that might seem to be an unreasonable consumer protection given that water levels are, most often, not predictable for a given lock in the river until three hours of scheduled passage. And we know that Scenic did, in fact, provide alternative touring and accommodations. But in reading some of the charges, the real complaint here was the quality of the hotels used and the failure of the consumer to have an opportunity to cancel their travel for a full refund. This is not a Scenic problem; it is a problem that can affect any guests booked on river cruises in Europe during a period of unusually heavy rains or unusual and prolonged draught.
TAUCK RIVER CRUISES
The response we received from Tauck was detailed and specific. In 2015 they experienced "zero" cancellations and 16 departure or "Just under 10% of all departures" required additional "coaching". Six departures throughout the season required at least a one night hotel substitution replacing a night on-board. Guests had to change vessels to get around water issues on two sailings.
UNIWORLD BOUTIQUE RIVER CRUISES
Our responses from Uniworld came from their President, Guy Young. He pointed out that 2015 was "one of the most challenging seasons on record with regards to low water levels."
This is significant, as it is not really understood by many sellers who think that flooding is the major barrier to successful operation of brochure itineraries on Europe's rivers. In fact, Europe generally, and Germany specifically, had their hottest and driest summer in 2015 since records were kept. This is likely attributable to climate change and forecasts are that record draught and shrinking summer water levels will only get worse over time. Travel sellers need to be aware that heart of summer draught may be as serious a problem as flooding possibilities in fringe season months.
Uniworld had to amend 6% of its total European itineraries in some manner in 2015. Put another way, Uniworld operated 94% of its itineraries without any necessary water-related modifications.
VIKING RIVER CRUISES
Despite repeated requests, Viking River would not respond to any of our questions related to water levels and the number of cancelled or amended river boat itineraries in Europe last year.
My questions regarding prior notification resulted in a number of similar responses. Water levels change rapidly within a 24-hour period. Operations people at the various lines and my own review of weather reporting stations in Europe indicates that river levels can be affected by inches within a three-hour period. And inches "often" make the difference in terms of a river boat's ability to transit a particular lock or bridge.
So there is no industry-wide early warning system in place. Tauck contacts travel agents as soon as they know an itinerary is affected for sure. Uniworld says that it informs its agent partners when there is an itinerary deviation of any kind.  AMA posts latest water level and itinerary standings online.
The issue of "rafting" or "double docking" is relatively clear. It is a fact of life on the most crowded European rivers. The Scenic spokesman said they have no recollection of a guest ever complaining about the need to tie up to other boats and added "most guests, I have found, are curious about the other vessels and this provides a look/see".
AMA has its own dedicated docking facilities in some ports including Vienna and Budapest. The berths on the Danube between Passau and Duernstein are the "most problematic" during peak season summer months.
Scenic points out that it takes an average of 18 months to build a new ship but more than four years for the lines to get permission to build a new dock. That would seem to be the heart of the problem.
So what are the takeaways for the travel seller and the consumer? Despite its growth, by every account, the statistics show that over 90% of all European river sailings operate their itineraries with no need to alter their port schedules in any way. Some lines are operating at 95% efficiency on the rivers without any issues of any kind. But then again, severe weather can affect those figures dramatically in any year.
Shared berths and double docking is a fact of life on Europe's most popular itineraries. Berth construction has not kept up with demand.
And travel agents who sell river cruises need to be up-to-date on the latest weather information in Europe on the days immediately preceding a guest's departure.
              Sailing calm rivers and visiting waterside towns and villages, is seen as a hassle-free way to explore the hidden gems of Europe. It should be a stress-free vacation option. But for the dedicated travel seller, there is a fairly steep learning curve involved in representing these products honestly and with integrity.
In addition to serving as the Senior Contributing Editor at Travel Weekly, Richard Turen owns Churchill & Turen Ltd., an award-winning, luxury-vacation firm. Travel + Leisure has named him one of the country's best "bespoke" travel planners, and Conde Nast Traveler named him a "Superstar Generalist" in its most recent list of Top Travel Specialists. He has also won forty-seven "World's Best" travel awards from Conde Nast Traveler. Turen has been a syndicated food and travel writer for more than twenty years and has authored three books and numerous magazine articles. . He is currently the Managing Editor of the Churchill & Turen Ltd. Media Group which includes five major consumer-oriented travel sites. He can be reached at rturen@travelweekly.com
AVALON RIVER CRUISES
 
Avalon's business model states that they retire ships at 6 years.

4 out of 5 of Avalon's river cruise guests have been on an ocean cruise.

New for 2013 is 'Avalon Choice' adding greater flexibility to dining options. Guests can pre-arrange and customize online dining choices and times, even making reservations for 10:30pm. Dining ashore options are available at select ports.

Avalon will provide Nordic walking sticks for active guests.

While in port, regional top chefs will board and prepare local specialty dishes.

Avalon's itineraries are very good because they include a full day in each port rather than a few hours in several ports.

Avalon employs at least 10 people for their kitchen crew including chefs, prep cooks and clean-up tasks. They are required to plate dishes within 7 seconds and have strict timing standards for prompt food service.

Avalon ships offer beauty salons, not a standard feature with other lines.

There is always a promotion to apply to a booking, either discount off the air or the land, or a combination.

The Avalon Angkor ship is the first passenger ship of its kind with just 16 cabins, built to cruise all the way from Ho Chi Minh City to Siem Reap.

Avalon extends a 5% discount to past guests of their partner brands, Globus, Cosmos and Monograms.
AMAWATERWAYS

AMA is a family-owned company. The owners spend much of their time traveling the world seeking new destinations and refining the onboard product. There is a relationship between crew and the owners that one does not see where crew is "outsourced", as is usually the case in river boat operations.

AMA has pioneered the concept of Theme Cruises aboard River Boats. In 2013, these will include Culinary Arts Cruises, Jewish Heritage Departures, and a new, Chocolate theme cruise.

When sailing on an itinerary which includes Vienna, if you opt out of the optional evening concert experience consider dining ashore this evening.  Dinner aboard the riverboat will likely be served quite early (5:30 pm) to accommodate concert-goers.

Be sure to take advantage of AmaWaterway's pillow menu, and a choice of sheets and duvet or sheets and blankets!

Complimentary on all European sailings, AmaWaterways answers the call of the foodie with its "Culinary Delights—Bites & Sights in Europe" program.   Guests partake in cooking classes emphasizing regional specialties, tastings and visits to local markets as well as walking tours with a culinary focus.

AMA's two newest vessels, set to sail in 2013, are the 164-Guest Amaprima and the 106-Passenger Amavida which will sail Portugal's Duoro River, an itinerary perfect for those seeking good wines and picturesque countryside.
GRAND CIRCLE

Balcony Staterooms on the upper deck tend to be quieter as the ship's hydraulics and electric motors are engaged to navigate through the locks.   The itineraries do schedule passage through most of the locks in the middle of the night, so if you are a light sleeper we highly recommend splurging for an upgraded cabin category.

In 2013 Grand Circle River Boats captured six of the top ten spots in the highly regarded Conde Nast Reader's Poll of the world's best river boats.

Guided walking tours can be at an excruciatingly slow pace to accommodate all members of the group. As an alternative, those who like to take in as much as possible will prefer to borrow the ship's bikes and explore on their own.

On the average sailing, more than half of the guests are past travelers with Grand Circle and for those who are new comers, some feel there is a cliquish mentality about the number of trips taken with Grand Circle and being part of the "Inner Circle", the name for their frequent travelers.

The itineraries are regimented so for those who appreciate all details of a trip being pre-planned, Grand Circle delivers.  For those who appreciate some level of serendipity and the chance to dine ashore, Grand Circle offers very little latitude or options in the daily schedule.

On most ships, only twin bedded cabins are offered.  The twin beds are positioned opposite from one another and flip up to create a small settee with a table between.   When folded down, the head of the bed can be elevated creating a chaise lounge with an overhead reading light.

While wine is served with dinner, most guests rate the quality just below supermarket box wine.  If quality wine is important to you, purchase a bottle ashore and enjoy it in your cabin or with dinner for a $5 corkage fee.

This line has an active "roommate matching" program for single cruisers. We do not recommend this program as compatibility issues, often involving medical conditions, can severly impact a small boat vacation.

Grand Circle uses "Program Directors" who are local residents. They offer onboard education seminars, lead tours, and operate as both guides and educators. This is unique to Grand Circle.

Children are not permitted and Grand Circle attracts an older demographic than any of its competitors.

Grand Circle is an American company and there is an absence of non-Americans onboard its vessels. Crew seems better versed in English then they are on most of Grand Circle's Competitors.

Grand Circle's policy of forcing consumers to work with them directly, without the assistance of a travel consultant, has resulted in numerous complaints regarding the post-cruise resolution of problems. Grand Circle offers no consortium benefits and actually penalizes guests who might wish to use their travel agent. As a result of these policies and the lack of outside advocacy for consumers, travel agents do not, as a rule, recommend this line.
TAUCK RIVER CRUISES

Scylla Tours actually owns the river boats Tauck exclusively sells.  There are only 4 Tauck employees onboard; 1 Cruise Director and 3 Tour Directors.  The Tauck and Scylla families have long standing history and friendship.

Scylla is based out of Basel, Switzerland and owns a total of 17 vessels. Scylla only operates the ship while Tauck operates the pre and post-cruise arrangements as well as sightseeing.

In Vienna, the special dinner included in Tauck itineraries (sailings vary) at the Palais Pallavicini is very special.  In fact, it is in an area of the Palace no one else has access to.  Other companies that offer a dinner experience will not have access to this private area and many times there are multiple groups dining together.

Tauck does not make guests pay a deposit or sign forms to use their bikes.

Tauck is truly as all-inclusive as you can get.  It is not unusual for the Tauck Director to offer 20 Euros per guest so they can experience a local lunch ashore.

All alcoholic drinks from the bar and all mini bar items are now included in Tauck's all-inclusive fare.

The Lido Bar is transformed in the evening into a casual restaurant featuring specialty dishes highlighting the chef's distinct skills. Advance reservations are required for this phenomenal al fresco dining experience and only 6 or 7 tables are open for the five course dinner.  The ever-changing specialty menu is posted on a daily basis.

Tauck often negotiates special access to exclusive areas of museums located along their river boat routes.

Tauck's wines that are included with dinner are regional wines, very specific to the area and change daily.  No house brands are served, avoiding much of the "free swill" commentary one hears on some other lines.

A masseuse and separate massage room is available on every ship, a rarity on river boats.

Tauck is launching two new river boats in 2014 along with four new itineraries.. The boats are being custom-built for Tauck with an increase in the number of highly-desired 300 square feet Balcony Suites,
UNIWORLD RIVER CRUISES

Uniworld's River Queen is the only river boat with an operating fireplace on Europe's rivers.

Single Supplements depend on cabin category and sailing however singles should look for the departures offered on a promotional basis where the single supplement is waived.

Uniworld share a Quality of Service standard with their UK-based sister company, Red Carnation hotels.

'Uniworld University' in Basel, Switzerland is where all onboard staff on European sailings are trained for up to 6 months prior to embarking on their first sailing.

Travel Consultants are a critical component to booking a cruise with Uniworld.  They do not solicit consumer direct business.

The average Uniworld guest tend to be over 55 years old, hold advanced degrees and earn an annual household income of more than $100K.

Uniworld refurbishes its ships every 2 years.

The S.S. Antoinette is named for Antoinette (Toni) Tollman, daughter of the founders of the Travel Corporation and owners of Uniworld Boutique River Cruises.  Ms. Tollman was the visionary of the ship's interiors, and she and lead designer Brian Brennan primarily used an 18th century theme reminiscent of a more famous Antoinette–Queen Marie Antoinette of France. The ship's ornate, formal decor looks much like a French chateau.Top deck suites and cabins feature full open-air private balconies, which convert to enclosed conservatories. The vessel also is home to a 20-seat cinema, a rarity for river ships, and the sun deck features a jungle-themed lounge.

World Rivers Day is a global celebration of the world's waterways, observed every last Sunday in September.  This initiative was founded by Uniworld's past guest, Mark Angelo, to increase public awareness and promotes the active involvement of citizens to ensure the health of rivers.

In 2013 and 2014, Uniworld will launch 6 new ships; 3 of which are in Asia including a second ship on the Mekong in partnership with local operator Pandaw.  The 60-passenger River Orchid will be similar to the 60-passenger River Saigon, which Uniworld began operating on the Mekong in January 2012. Both are handcrafted in French colonial style.  The company's two new vessels for China's Yangtze River are the Century Legend and Century Paragon.

Uniworld is the only North American-based Cruise Line to offer river cruising in Italy along the Po River and Venice Lagoon on 2 itineraries. The Po is the longest river in Italy at 405 miles (652 km), rising in the Alps on Italy's western border and emptying into the Adriatic Sea in the east. Italy's River Po Valley boasts a wealth of art, culture and tradition.
VIKING RIVER CRUISES

The designers of Viking's new longships are the experienced architecture team of Yran & Storbraaten, the same were used for Oceania's Marina and Seabourn's Sojourn.

The height under the bed in Viking's cabins is a little over 12 inches.  Keep that in mind while packing for convenient storage of empty suitcases.

There are no cabins with fixed bedding on the new Longships.  All beds can be converted easily to twins.  All the other ships in the lowest category cabins have fixed twin bedding.

Viking offers many vegetarian dining options.

In an attempt to improve the awareness of European River Cruising, Viking has sponsored the PBS Masterpiece classic series and hit TV show Downton Abbey.

Viking currently enjoys approximately 30% of the river cruise worldwide market share.  It is, by a fairly wide margin, the largest river cruise company in terms of tonnage and number of passengers.

Viking River Cruises is a privately hold US company, but they also have offices in the UK and Australia.

Viking has a popular Referral Program that is really another form of discounting. A booked guest who refers someone on their sailing will receive a $100 per person credit for their cruise.  The referred person also gets a $100 per person credit off of their cruise total.  The referring person will receive their credit once the referred person is under deposit and has completed their guest information form.

Viking's newest ships are complete with putting greens as well as organic herb gardens.

In order to make room for their large suites onboard the Longboats, Viking have eliminate the onboard salon and spa.  As an alternative, spa treatments and health club offerings are recommended ashore in select ports.