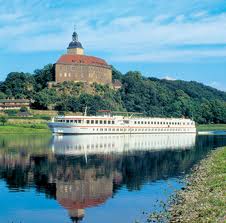 Q – We were on a Uniworld river boat tour last year – first one ever – newer ship – ss Catherine – as foodies (and realizing this is a cruise ship and not a Michelin star restaurant) – we found the food to be extremely good – also, they include all drinks and cocktails and had excellent included wine pairings – we were in Bordeaux and Provence – cabins were beautiful and well appointed – no tips – everything included..  we did not think the tours were anywhere near the level of those on Tauck (had previously been on a Tauck land tour) but were acceptable plus – varied with the guide. we met a nice couple on the tour who just invited us to join them in October on a Danube cruise – due to their time limitations with dates and desired itinerary- they booked Viking (a suite) and we are going to join them…
Our feeling is that having travel and dining companions you enjoy adds a lot to the trip….Reading various sites about Viking i do have misgivings about the food not being all that great; do not like that cocktails are not included and that tips are not included I also did not think Uniworld did as good a job as Tauck does at taking care of you from start to finish – greeting at airports, etc…. also, Tauck land tour had all ages of people – not just older ones even though it is expensive…
We have not finalized the Viking tour but i wonder if we are making a mistake and spending all this money Just to be joining some other folks….
I am not clear on what your website does – do you offer travel agent services? i realize you want to be low-key….. but how low can you go!?  LOL and thanks for your help.  we need to decide in the next couple of days.
A – You have been on two lines whose overall services are more highly -rated than Viking River's. But you can have a wonderful time on Viking, which has helped make it the world's most popular river boat company. Chevrolet outsells Porsche, Target sells more jewelry than Tiffany's. We would make this particular decision based solely on how badly you want to spend time with these new friends and how disappointed you might be to travel on an alternative without them.
We are not a travel agency. We are an upscale vacation planning firm celebrating our 30th year in business. All of our personalized booking services in conjunction with the finest river cruise lines, ocean cruise lines, and escorted tour companies, are offered to our carefully selected clients on a "No Fee's Ever" basis. We are not hunting new clients here so we can afford to be "low key". We are quite serous in our desire to be travel truthtellers given the nonsense about travel and travel products on the crowd-sourced sites.