RIVER BOATING TRUTHS: BASICS YOU NEED TO KNOW ABOUT CRUISING

EUROPE'S RIVERS
JUST HOW POPULAR IS RIVER BOAT CRUISING?
As you explore our site, you will discover that river boating the most scenic waterways of Europe is, quite literally, the fastest growing segment of the entire travel industry. During the last five years, traditional big ship cruising enjoyed an annual increase in number of guests of between 4-5%. River cruising in Europe, by contrast, has grown at an annual rate of 16%. Twenty-two new river boats will be launched in the next twenty-four months.
To read the ads, you might come to believe that each of the major river boat lines offers luxury beyond compare. Gourmet food, wonderful guides, no-hassle convenience, and excellent value are all promised to the consumer. We are certain you will not be surprised to learn that much of that is hype. You've seen the ads, you've heard the buzz, and your neighbors are starting to come home with stories of their experiences. So the big question would seem to be……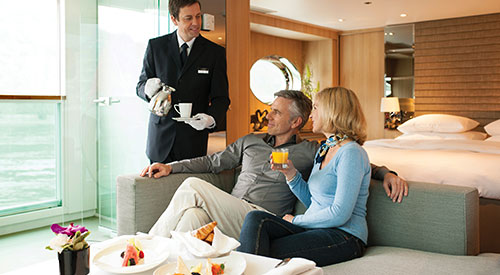 DO RIVER CRUISES DELIVER A TRUE, FIVE-STAR EXPERIENCE?
When we started we said no.  A few boats reach four-star status but no river boat company in Europe had been rated five stars. At least by us.  Our latest inspection reports suggest that Crystal River Cruises is the first river boat line to to break the five-star barrier. 
Most river boats are leased and come complete with crew. In the industry this is known as a "wet charter". Of the major brands reviewed on RBR, only AMA, Crystal, and Viking own and operate their own boats. The vast majority of crew members come from countries in Eastern Europe where hospitality industry training is not up to US standards and English language skills are often lacking. Given current per-diem costs, European river boats cannot afford to offer the levels of service, cuisine, wines, entertainment, lectures, and staffing one would expect to find on the cruise lines that have made our "Top Ten Luxury Cruise Lines List". (www.cruisetruth.com) Given the availability of well-trained crew, sailings aboard river boats in Vietnam, Myanmar and China, are almost always rated higher than their Europe-based counterparts.
There is also the matter of a river boat's actual physical dimensions. Galleys are not large enough to offer the variety of food and the innovative cooking techniques found on many five-star cruise ships. Lecture and entertainment venues are sparse and most accommodations are built on a pre-fab basis with inadequate sound-proofing between cabins.
WHY IS CRYSTAL THE ONLY RIVER BOAT LINE AWARDED FIVE-STAR STATUS?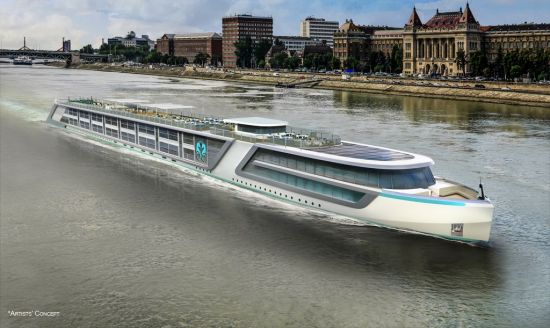 Crystal has become the first river cruise line in Europe to achieve Five-star status and the highest scores ever recorded in our CSI Inspection Reports. The vessels  sail in Germany, Switzerland, Holland, Belgium, Austria, as well as the countries of central and eastern Europe. Crystal has promised that their river boats will "deviate from traditional routes" and portions of every itinerary will include travel during daytime hours. This is significant as Crystal is  the first line to emphasize daytime sailing, a more relaxing option to all day – each day traditional itineraries. 
The 106 guests travel in entry-level  "petite" 188 square foot suites with a majority of deluxe staterooms either 237 or 253 square feet. The two-bedroom Crystal Suite measures an astounding 759 square feet. All suites feature full-size King beds, the only river boats in the world with that feature. Each suite has walk-in closets and the bathrooms are large enough to feature double vanities.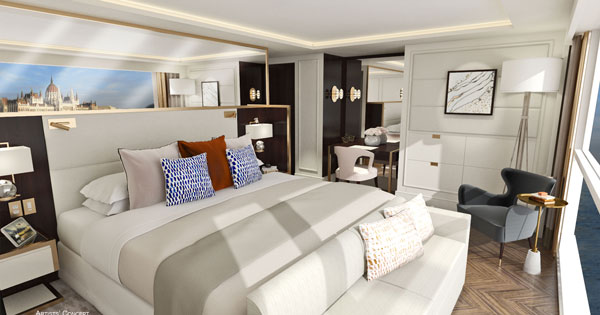 Crystal's riverboats  feature a yacht-like design and they have the highest space-to-guest-ratios in the industry. 
Shore excursions are different and more upscale than  options presented by competitors.  Look for arrangements to get guest's entry to Michelin-starred restaurants ashore and a sophisticated on-board Concierge staff to assist Crystal's well-traveled passengers. "Active Exploration Adventures" are featured that will include both electric and manual bicycles, hiking, Segways, and use of on-board kayaks. 
Crystal is obviously not for everyone. For our full review and more details see our ratings below:
IF RIVER BOATS, OTHER THAN CRYSTAL, DO NOT DELIVER A TRUE FIVE STAR EXPERIENCE, WHY ARE THEY SO POPULAR?
River boats generally provide vacations that are hassle-free. There is no travel within the trip to get to interesting places. Guests aboard river boats know they are going to be able to step off their intimate boat and be in a small city or lovely village within moments. They can walk to most of the major sites and they can be devoting their complete time in port to exploring local history, walking or hiking in the nearby woods, riding bicycles about their village, shopping, or sampling local cuisine. Most river boat guests actually do several things ashore. They take the morning walking tour and then often explore on their own.
There is a real camaraderie among those who share a river adventure. Guests are almost always in sight of land, a factor that makes river cruising in Europe particularly attractive. The element of sightseeing while sailing is one of the really important differences between European cruises, where you are surrounded by water, and European river cruising, where you are surrounded by Europe. Cruises tend to stop in larger ports, those big enough to handle their specific needs. River boats ply rivers with local traffic, cruising past people living their lives in full view of river traffic. It is a more intimate experience than cruising. Finally, river boating is normally a semi-inclusive vacation options with shore excursions included in every port of call.

WILL UNUSUALLY HIGH OR LOW WATER LEVELS RUIN MY VACATION?
The effects of river levels is one topic the industry would prefer to ignore. If your definition of a ruined vacation means having your itinerary altered to substitute land arrangements for a river cruise or a partial adjustment to your itinerary, your total vacation could be affected. If nothing else, you would be packing and unpacking each night something most river cruisers would consider a major nuisance.
Rivers can flood in the spring, as they did last year. In fact, Europe's weather patterns have been unusually severe both in terms of rain and drought in recent years.This year, there was heavy snow melt and rain in the spring, affecting some itineraries. In June of 2013, historic flooding hit central Europe and particularly the area surrounding Passau. This June, low water levels along the Danube affected  more than a dozen river boat itineraries.
The problem with all of this is that river boat companies have not been honest about the problem in their online and printed marketing materials. Travel agents do not generally point out negatives, There are few statistics that seem reliable but the best estimates are that you have a 95% chance of your river boat vacation operating normally or normal enough with only one or two adjustments to itinerary.
10 THINGS WORTH KNOWING ABOUT HIGH/LOW WATER ISSUES ON EUROPE'S RIVERS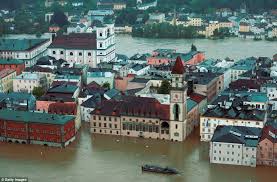 01 – Do not expect to receive current information from river boat operators a day or two prior to your departure. The industry norm is to take a "water levels are unpredictable" attitude. That means you very well could arrive in Europe to discover you will be doing some bus touring on land. But the better lines offer future credits when this happens and make some effort to encourage guests to return again. This is where there are major differences between the highest and lowest rated lines. The river cruise lines correctly point out that a high percentage of their guests are already traveling in Europe prior to boarding. Very few guests arrive on departure day so it is more difficult to disseminate current information.
02 – The worst of the rivers in terms of likelihood of cancelled sailings is the Elbe. Many river boats on the Elbe with otherwise normal drafts have a hard time when levels are low. In the past several years, however, the Upper Danube has become an area of particular concern for river boat operators. Low water issues have plagued the Upper Danube, particularly the area between Passau and Regensburg. Given that the Danube is the most popular single river boat destination in Europe, this has affected more sailings for more lines than the press releases would have us believe. In fact, one major line, AMA Waterways, one of our highest-rated companies, has publicly acknowledged that it is trying to operate itineraries that avoid this portion of the Danube as much as possible.Their honesty on this matter should be appreciated as it is rare in an industry that is more concerned with imagery than reality. The lower Danube has far fewer problems because there are power plants in Austria below Passau with dams that serve to keep the water levels stable.
The Rhine River is being dredged to avoid future problems. The Main River also has dams which compensate for low water periods.
03 – Despite what you read online, the majority of Europe's rivers are susceptible to navigation issues and it is almost impossible to choose a time of year when flooding or drought will absolutely not occur. We think the real question is whether or not a river cruise line will offer an on-the-spot full refund to guests arriving in Europe only to find their cruise cannot operate. By giving guests a refund, they can, with the aid of their agent, make alternative arrangements to rescue their vacation. To date, not a single river boat company follows this policy. Instead, arriving guests are often given the opportunity to return home and presented with a future credit for another cruise on the same line. Or they may continue their vacation via motorcoach/hotel with partial riverboat accommodations.
Let's be fair. This is the kind of event that airlines refer to in their contract of travel as an "Act of God." We would never hold a river boat operator responsible for water levels. But we do expect an alternative action plan be in place. No line has demonstrated their ability to design such a plan and to disseminate it publicly.
04 – One of the complicating factors is that the various boats within a fleet normally have different drafts. So one or two of a line's boats may have issues and be unable to sail, while others have no issues at all. It is impossible to predict although some river boat nerds suggest avoiding any river boat with a low draft in the spring or fall.
05 – Water level problems are considered an "Act of God" so your insurance will likely not cover you. No river company currently has a policy that refunds guests who do not complete their itinerary as scheduled. Some lines such as AMA and Uniworld, offer a "cancel for any reason" insurance policy. But we want you to be careful about insurance because the cost of this type of insurance approaches 10-11% of your total trip cost. We also want you to be clear that you will not get your money back when you cancel – you will receive a credit for future travel. Insurance is a subject we will want to discuss with you carefully.
06 – One of the issues rarely discussed by travel journalists and agents is the fact that most lines, on most rivers, on most dates, offer a truly relaxing, rather extraordinary experience. When everything is going well, each product has its strengths. But industry insiders know which lines seem to fall apart when things do not go well. How well a river cruise line reacts to passenger dissatisfaction and unanticipated challenges, is a large part of our ratings. Never assume that all river cruise lines will react in the same way when things go wrong. They haven't in the past and they won't in the future. This is the kind of information you should expect to receive from a consultant who specializes in river boats in Europe. So called "full service" travel agents are essentially airline ticket distributors who sell vacations as an additional service. Seek out a dedicated vacation planner. They exist in every state – well, perhaps not Wyoming. 
07 – One fact that the industry would like to keep from the consumer is the fact that some lines have boats with a higher draft. A knowledgeable consultant will be able to identify which boats, for instance, require a five feet draft while others, require six feet. That one foot difference often spells the difference between an ability to handle low water issues and and a bus tour. It might surprise river cruisers that decisions as to whether or not a boat can operate during periods of high or low water comes down to matters of inches. And no European country where the boats operate has announced a bridge rebuilding program to allow greater clearance.
08 – Do not assume that bigger is better. Some lines have launched longer, larger, higher density versions of the standard size river boat. Viking River calls theirs "Longboats", Scenic has "Spaceships". But if a boat is heavier than the norm, it almost always requires more draft. More draft equates to more water issues.
09 – Flooding was an issue in 2013. One of the major problems for river boat operators was the malfunctioning of an important lock near Vienna. But no one ever reported on this so consumers arrived in Europe unaware of the problem. Guests who used a trusted travel advisor may have been warned about this problem. People who book directly with a headset at the river boat line will never be told anything potentially negative about the cruise they are planning.
10 – The chances of a river boat vacation being seriously affected by weather is considerably greater than you might experience on an ocean cruise where Captains have the option of avoiding bad weather and choosing alternative port stays. Ocean cruises are not affected by high or low water. So, if you are going to seriously consider river cruising, do so with a clear idea of the risk level and make certain that a change of plans that might include land arrangements will definitely not ruin your vacation. If your boat cannot pass under one of the bridges along your route, your vacation will be affected.
FOR MORE EXTENSIVE INFORMATION ABOUT THE ODDS OF YOUR SAILING BEING AFFECTED BY WATER LEVELS PLEASE GO TO 'RICHARD TUREN ARTICLES" IN OUR HEADING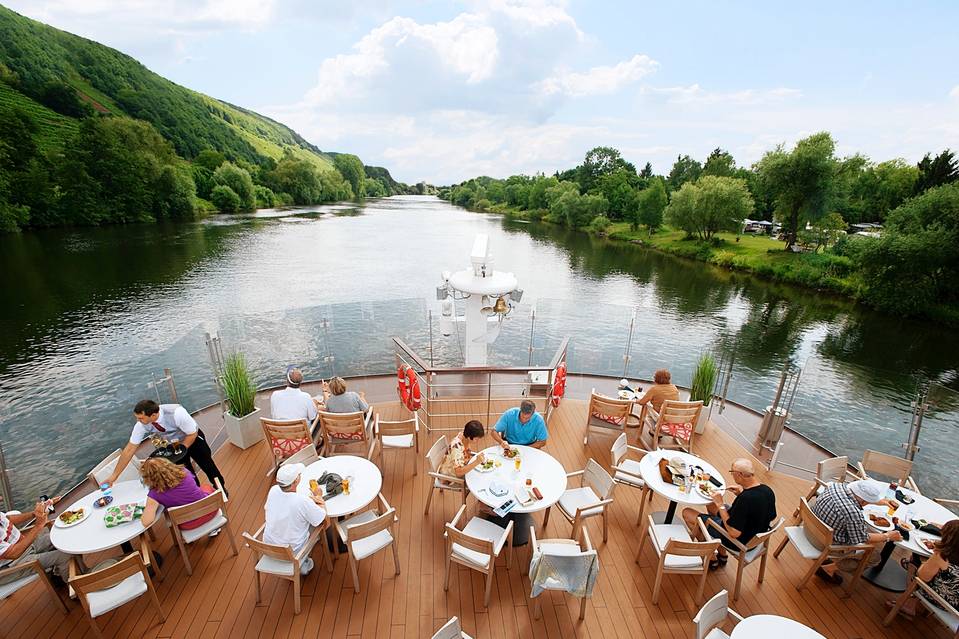 BUT WHAT ABOUT PRICE?
Unlike every other river boat web address, we don't scream price or list phony deals, or hype "free air" that is not really free. Here is a fact you can take to the bank: Every top travel consultant selling European river cruises receives exactly the same offers, amenities, and price quotes. If we didn't, we would not represent these products. Consumers routinely have their intelligence insulted with phony deals and silly claims of exclusive pricing. Think about it. If you were CEO of a company operating small boats with only 120 people, would you want to ruin people's vacation by offering better rates to a handful of guests who might poison the atmosphere with their perceived "special deal?" We don't play misleading and insulting price games. We qualify our clients for 100% of all possible discounts and we return 100% of these discounts in the form of a price rebate. Travel agencies that sell on price are insulting the intelligence of consumers who deserve straight answers when it comes to real per diem cost questions and analysis.
WE ARE THE ONLY  CONSUMER RIVER BOAT SITE THAT DOES NOT ACCEPT ADVERTISING, MARKETING FUNDS, OR FREE TRIPS  FROM THE RIVER BOAT COMPANIES WE REVIEW.
We simply don't understand how some of the so-called "critic" or "advisor" web sites accept advertising from the very product lines they are reviewing while claiming to be impartial. Most of what you read online, in a major newspaper, and even in the glossy consumer travel magazines, is "payback" by a writer for what is, essentially, a free vacation. The fact is that the travel industry is characterized by "fake news" generated by travel writers on a paid junket and web sites and other media that simply print PR marketing releases.
You will notice that we do not use crowd-sourced reviews from so-called "critics". We would need to know something about the specific travel experiences, intelligence, and sophistication of anyone purporting to write an unbiased review. We have them within the industry, but the consumer searching the internet is often reading a review planted by a team of digital marketing experts from the very companies being reviewed. They all have numerous e-mail addresses and online names. This is called "buzz marketing" and it is pervasive in the travel industry. No industry professional would ever place any faith in comments posted on so-called review sites.
Our ratings are based on our own independent inspections, reports and evaluations from carefully chosen experienced river boat inspectors who have been trained and certified and the best quality evaluations and reporting from both the consumer and industry trade press. River boat lines do not know when our Cruise Ship Inspectors (CSI's) are aboard their ships and we do not accept advertising or compensation in conjunction with our product ratings.
There is a great deal of misleading information offered to the public about the relative merits of various river boat lines. The biggest lines have the biggest advertising budgets and, often, the smaller, higher-quality cruise lines are not as well-known. Some of the larger river boat lines have truly impressive TV ads, while their upscale competitors normally sell out and so require little or no advertising. We believe truly knowing as much as possible about the world's top rated lines is the best first step to planning a truly memorable river boat or cruise vacation.
WHY WE WANT YOU TO THINK SERIOUSLY ABOUT YOUR DECISION
We want to be certain that river cruising is the best option for your vacation. Those who are often disappointed by their river boat experience have sailed on one of the "Top Ten" inclusive, five-star rated cruise lines. The onboard service, food quality, lectures, shore excursion options, and the sophistication level of your fellow travelers on a river boat vacation will not match that found aboard one of the smaller, top-rated cruise lines.
The better river boat companies charge per diems of $500-700 for their most spacious accommodations. But note, for instance, that the top accommodation on Tauck's river fleet is the same size cabin as the lowest category on Regent Seven Seas. Do not choose river cruising because it is a bargain when compared to cruising the small, luxury cruise brands. Most of the lower-priced cabins on river boats are small enough to cause issues with guests who are claustrophobic.
For most of the potential river cruisers we talk to, river boats end up being the right choice. But we will always want to discuss your specific expectations and needs to determine if you might be making a mistake. Whoever you speak to about river cruising, should be telling you the down as well as the up side of the experience. We are not a river boat Coke machine intent on spitting out bookings. We are fortunate enough to have incredible clients in forty-seven states and seven countries. We are looking for a long-term vacation planning relationship – not a quick sale.
WANT TO PROCEED? WHAT DO WE DO NEXT?
We know that guests who linger on riverboatratings.com are intelligent consumers and you will know what to do if you are in agreement with our approach, find our knowledge of river boating of value, and wish to work with us on a zero-cost basis. You can reach any of the travel consultants or journalists whose work appears in these pages by calling us at 630 – 717 – 7777. An experienced Churchill & Turen Ltd. river boat concierge will answer the phone. Our staff does not work on commission. We do not employ any commissioned sales agents. If you prefer contact via e-mail, please write to us at documents@traveltruth.com Immediately following your initial contact, and only if the fit appears to be mutually comfortable, our award-winning Concierge Team will e-mail you our New River Boat Guest Application. There is a $100 Application Fee that we ask be sent along with the completed form. Within 24 hours of receiving your application, and payment details, you will be contacted by one of the world's top river boat specialists whose only agenda is matching you with the boat and itinerary that best meets your needs. Don't be surprised if we offer alternatives and try to talk you out of river cruising. It isn't for everyone.
We would like you to know that we have been in business for thirty years and we currently have more people who wish to use our services than we can accommodate. We ask that you contact us only if you feel that our approach meshes nicely with your expectations of the kind of caring, personal relationship you can have with a luxury vacation consultant. If you currently enjoy a professional relationship with a local travel consultant we have no interest in trying to interfere with that relationship. We do have one bias: We prefer not to work with those suffering from serious humor deficiencies.