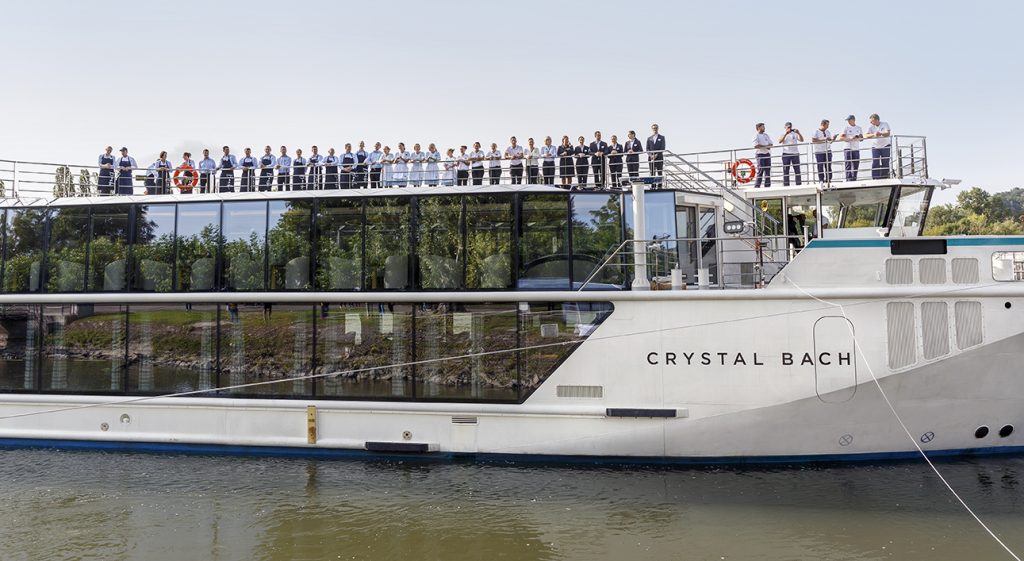 Q –  We have just returned from our third river cruise, this time sailing the Crystal Bach. We thoroughly enjoyed our previous experiences on Avalon and Vantage, but this experience was head and shoulders the best experience at sea we've ever enjoyed. There was something so special about the manner in which staff on-board the Bach related to the guests. The service was, we have to say, flawless. We keep a journal of every travel experience and distribute it to our friends when we get hope in a review format. We were frustrated because we couldn't come up with any "cons" on this sailing. We know you probably won;t run this because you don;t like anything that smells like an ad, but we do have one question that no one seems willing to answer. Can just anyone apply for a job aboard one of these Crystal ships, what kind of background would you need, and, most importantly, how would the officers  be compensated?
A – Crystal and the other top-tier competitors on Europe's rivers, look for both Nautical Staff and Technical Staff with previous river boat experience that includes work on boats sailing the Danube, Main, and Rhine rivers. River boat companies are fortunate in that the central European countries along these popular routes have a fair number of maritime schools and the potential for highly-trained multi-lingual staff. But on-board training is always required. Crystal has been requiring its river boat staff to work and observe the service delivery systems on the lines two five-star ships, the Symphony and the Serenity. The ability to do this is unique to Crystal. We think it is a critical factor in their "quick-learn" service success.
Officers on these boats receive full 12-month pay covering time off the ship and vacation. They work under an EU-based contract allowing them to receive all social contributions on behalf of the EU Security Administration. That means they get benefits in the same way they would if they were paying into social security in their own country. Travel to and from the ship for work as well as vacation travel is also included. Crystal maintains a private pension plan for employees who work year-round. They get free uniforms, internet, and special family and friends travel discounts. A staff gym is provided and officers receive the coveted "public room privileges", meaning they are free to utilize lounges, dining room, and other public areas. Non-officers do receive travel allowances and some medical benefits. Crew generally works a six-month contract but that varies. This is a short response to your question but working six months straight, without weekends off, and long hours at that, is not a life for everyone. Smiling for six months might be the hardest part.