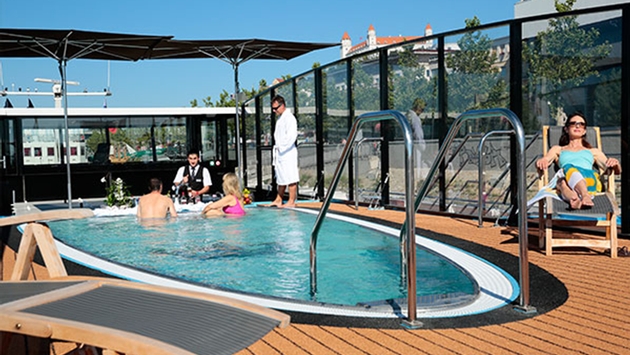 Q –  Sittin on the dock of the bay – but haven't pulled the switch on a river cruise. Likely we would want to do two weeks from Amsterdam to Vienna or Budapest. I guess our concerns revolve around smallish boats, tiny kitchens, and cramped quarters. The social aspects of the cruise and the included excursions appeal to us. We are foodies but we can prepare for some special meals on our own for lunch time and the occasional overnight in cities. One question: Are these boats getting any better or are they, more or less, all cut out of the same cloth?
A –  Some would argue that the very real changes in river ship design were made possible by the rebuilding of the Main-Danube Canal after it was destroyed during the second World War. It took a while, but the canal was rebuilt, accommodating larger vessels, in 1992. This provided an entire system of locks that now allows river boats to travel from Amsterdam all the way to the Black Sea. Once completed, new boats were readied for the market and a series of new design options and improvements in current river boat construction became available. Here is a list of some of the improvements you will find prevalent in today's market.
Engines are quieter. This allows for premium cabins to be placed above the engine room.
Boats now have elevators so that those with walking challenges can be comfortably accommodated.
Bedding has improved dramatically with pillow options on several lines.
There are many more suites and entire decks of 300 sq. ft. cabins. These suites often have walk-in closets.
At least one alternative dining venue is now found on most river boats.
Some of the boats feature on-board herb gardens and swimming pools that can convert to upper deck movie venues.
Cabins have been redesigned including beds that face the water
Certain levels on certain lines have eliminated the traditional single supplement charges so "single cabins" actually exist.
Ships now have their own so-called blackwater sewage treatment systems, an important feature when negotiating with local municipalities for docking rights.
Touch of a button balconies are now available on most new-builds.