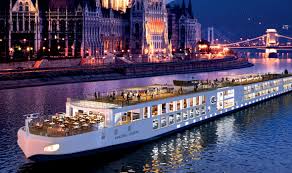 Q – Love both of your sites. How damn refreshing to hear the truth without ads or sales bs. But please, help us out. We sell river boats and we want to be sure that we have it right. Is "Riverboat", as in your site name, correct? Or, are these just boats or, should we be calling them ships. Anything you can do to straighten out the terminology would be appreciated.                 
A – Actually, "riverboat" is not a proper term. As Douglas Ward, the author of the respected Berlitz Guide to Cruising observes, a boat is owned by someone privately or leased out. It belongs to someone. On the other hand, a ship is ocean-going so that doesn't really work. The proper term is one that virtually no one uses – "rivership". They generally are designed for rivers, have flat bottoms, a Captain and crew, and three or four accommodations decks. They are obviously designed to navigate Europe's interior waterways, including passage through locks and under bridges.
If you want to impress your friends, and clients, use the proper term "rivership". A boat is the proper term for something stored in someone's back yard.