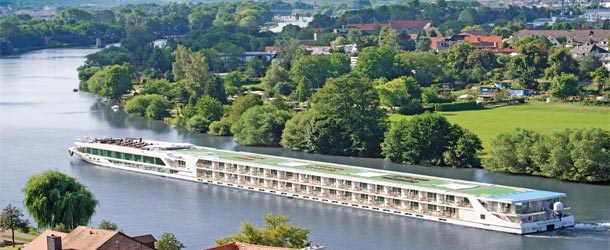 Q – We have friends who are on a tighter budget than we are who have been trying to convince us to join them on Emerald Waterways. We fully understand that this won't be a top of the line river cruise and that everything involves an extra charge, but we enjoy our friends company and wonder if you would try to talk us out of going?
A – No. Traveling with friends is half a key component to any journey. The four Emerald boats are quite modern looking, even somewhat minimalist in design Emerald is not all that well known in the States because it is considered the contemporary off-shoot of parent Scenic, an Aussie-based line that we rate quite highly. Their pricing actually is somewhat inclusive, unusual for a brand at their lower price point. You will get transfers to the boat, beer, soft drinks, and lousy wine with lunch and dinner, all gratuities, and complimentary Wi-Fi.
What really identifies Emerald is the dual-purpose area at the aft end of the boat that transforms from an indoor, heated swimming pool with a retractable roof, to a movie theater at night. This is a feature that guests really love.Another specific feature aboard all of their boats is the "Open-Air" system on the Horizon and Vista Decks. With the touch of a single button, the upper part of the floor-to-ceiling window drops down, creating the feeling that you have a balcony without the need to actually pay for one.
The pricing model for Emerald has to do with the fact that these are very long boats, 442 ft. long to be precise, which allows for 182 guests. The boats will feel more crowded because they are but the higher density results is some favorable pricing.
So, as long as you are expecting an international group of guests, with a heavy contingent of Aussies,  and a somewhat lower age demographic than their competitors, you might actually enjoy Emerald.