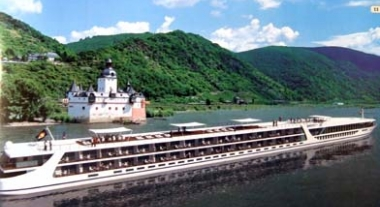 Q – We are about to make a decision on doing a river cruise vacation with our college-age children. There would be five of us. We obviously want to spend time together, enjoy fine food and wine, and explore the villages on bicycles or hiking. A floating senior citizen center where no one gets off the boat to explore is something we are hoping to avoid. Our agent is trying to convince us to do a cruise ship because the crowd will be much younger. But we've just had a friend who says we should talk about barging, something we know nothing about. The kids were more interested in sailing a river than an ocean or the Med but now we're really confused. Seems like we have three options. Price is not so much important and we're fairly well-traveled. The kids have all been to South America and Europe and my wife and I have spent time in Southeast Asia. Any recommendations for my dilemma? Love the site. You have no ideas how helpful it has been but we wish there were more on Barging. 
A – The first thing you want to do is listen to the kids and forget what the agent is suggesting. The thing about cruise lines that few in the industry will openly acknowledge is that the higher up you go in quality there is a matching increase in average age. There are certain cruise lines where life is a carnival and the conga line forms about fifteen minutes before the anchor goes up. In the river boat sector the only line that caters to a younger demographic is U by Uniworld. You might want to look at it if you think you could stand being ensconced on a boat with primarily milllennials. One can only pray that the Wi-Fi is working properly or there could be Frappacino riots. 
Be careful with barging. It is an incredible vacation option, particularly in the south of France, but barge staterooms are smaller than the average prison cell in California. Barging is also a form of travel Russian roulette. Our advice is to delay your barge cruise until you can travel as a party of five or six. That will enable you to charter one of the lovely 3-bedroom boats with much more room and more luxurious accommodations.
There are small cruise ship lines like Sea Dream, that have boats with fewer guests, 50 cabins, than even river boats. Sea Dream could be a wonderful option for the family, calling at ports their obese tonnage sisters have to pass in the night. 
Finally, allow us to burden you with a specific recommendation. We think that AMA waterways might have appeal to everyone in the family given the line's operation in France and superior bike and hike programs. We do want to suggest that you worry less about the presence of seniors on your trip. They really remain on-board and they may step on you in their haste to depart the ship to explore ashore.