RIVERBOATRATINGS BOTTOM LINE: 
Launched in 2002 by seasoned river cruise executives, AmaWaterways is generally regarded as the best of the rest after Tauck and Scenic are taken out of the equation. AmaWaterways now has 20 vessels and their newest ships have top category suites with twin balconies. This line offers the solid guarantee of quality with some interesting onboard innovations. Cruisers can, for instance, dine ashore on the line's 'Culinary Delight' series of tours. We particularly like the pacing of walking tours, allowing for several levels of walker and for those who prefer to start later.  French balconies and complimentary in-room internet service is provided. AmaWaterways even offers guided bicycle touring. One gets the sense that management is constantly thinking up ways to appeal to a younger and more sophisticated clientele. The attitude at AmaWaterways seems to be "Why can't we do that on our boats?"
Combine the above with the fact that AmaWaterways is, in our opinion "The Best Value for the Quality" in the European market and you have several compelling reasons to consider this line.
OVERVIEW:
AMA has achieved high levels of consistencies and the line has won numerous "World's Best" Awards from Travel + leisure to Virtuoso. They are not the best but they are slowly tapping on Tauck's door. They currently represent the happiest marriage of quality and value in the industry. In addition to cruising Europe's waterways, AMA has programs in Russia, Myanmar, Vietnam, and Cambodia. Their boats in Asia are generally leased. They have a unique relationship with the lovely Zambezi Queen in southern Africa presenting a rare opportunity to combine river cruising with a safari experience.
Their infotainment system is complete with complimentary high-speed internet access and first-run movies keep guests well-connected and entertained. Each boat carries approximately 20 bicycles and tours include complimentary wireless audio devices so a guide's words are always within earshot.
The 'set your own pace' shore excursions enrich traveler's experiences and twin balconied staterooms encourage you to relax and watch the world go by.   Criticism of AmaWaterway's on-board service is rather rare, particularly on the line's newest ships launched after 2011. The inclusive offerings create a good value.
OWNERSHIP AND HISTORY:
In 2002, AmaWaterways was launched through the collaborative efforts of Austrian-born, former Viking River Cruise President, Rudi Schreiner, travel-industry executive Kristin Karst and Brendan Worldwide Vacations founder and owner Jimmy Murphy.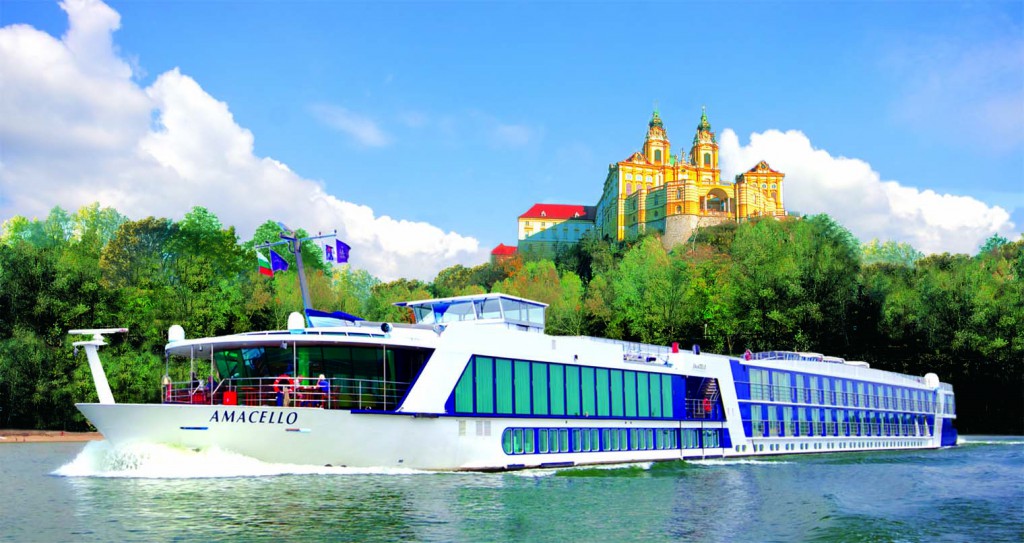 OFFICERS AND CREW:
The international crew is primarily European, with many staff members from Romania, Hungary and Slovenia.  Most staff has graduated from a European-based hotel management school and many of the guides are fluent in four or five languages. Unfortunately, English skills vary greatly among the staff. Each cruise also features a cruise director who leads shore excursions, arranges for airport transportation, and offers running commentary during scenic cruising and more. Unlike Tauck, AMA does not have personal on-board tour guides assigned to small groups. The lone tour director basically does it all. This is an area where improvements can be made.
ACCOMMODATIONS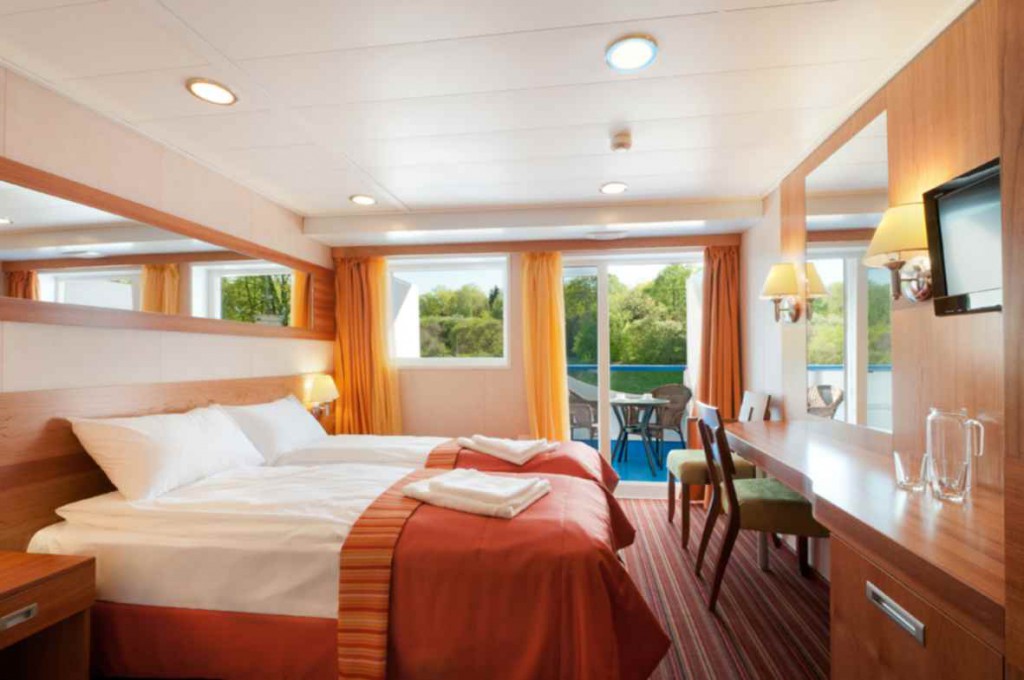 In-room furnishings include white plush down bedding, a sitting area, flat-panel TV, safe, terry bathrobes, slippers, individually controlled air-conditioning, closet and bottled water replenished daily.  Suites enjoy spacious closets and minibar.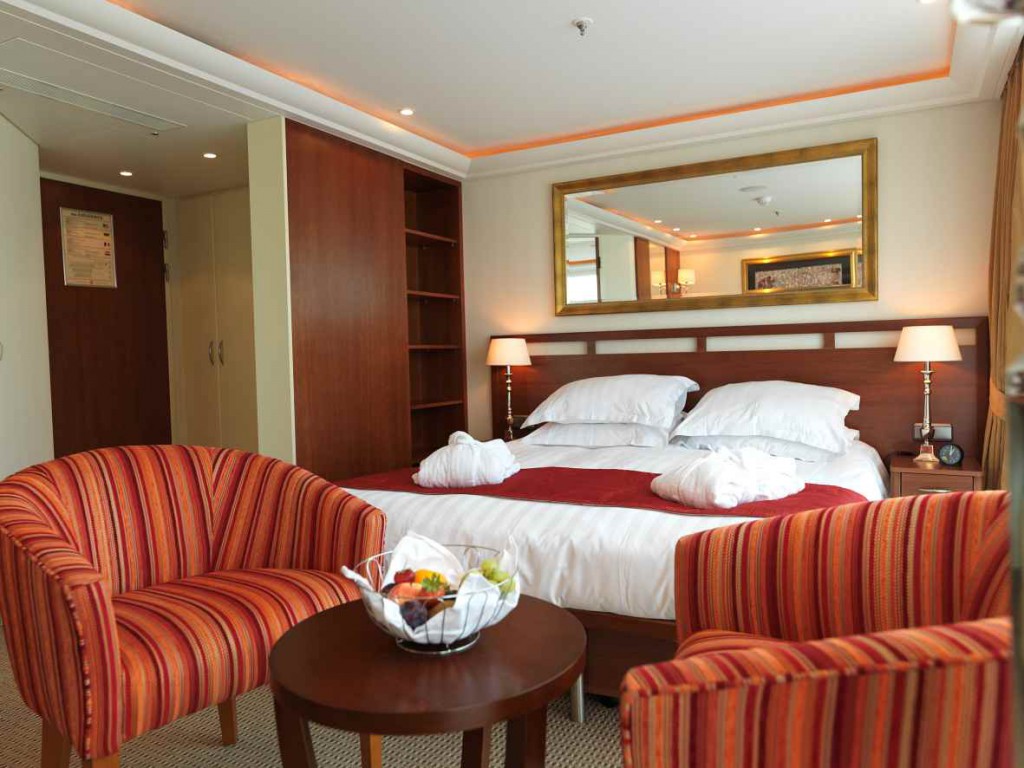 The newer vessels clearly have the best suite accommodations. In 2010, a new, and rather revolutionary design concept was introduced featuring both a French balcony and a true balcony with deck chairs in several categories.
Standard Accommodations:  Mid-range cabins enjoy floor to ceiling windows and French balconies.
Entry Level Accommodations:  The most basic cabins are in less desirable locations with small, fixed, chest-high windows.
BATHROOMS:
AmaWaterways en-suite bathrooms are spacious and feature a separate shower with multi-jet shower head and marbled-clad finishing.  Each is equipped with a hair dryer, magnifying mirror and spa-quality soaps, shampoo/conditioner and body lotion.  Suites include a bathtub.
DINING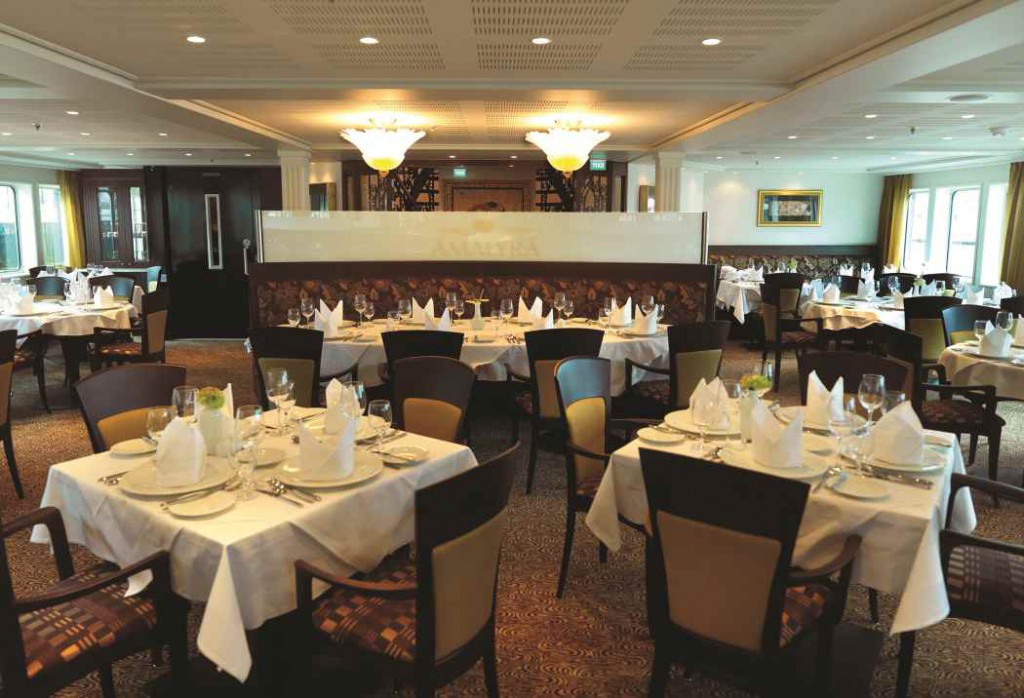 DINING:
As a member of La Chaine des Roisseurs, one of the world's most prestigious culinary organizations, guests aboard AmaWaterways enjoy better than standard river boat dining and complimentary wines with dinner.
Breakfast and lunch are served buffet style however you may also order from the menu.  The multi-course dinner is served ala carte with special attention paid to regional specialties.  Wine and beer selections included complimentary at dinner and soft drinks, coffee, bottle water and teas are served complimentary throughout the day.
Newer ships offer a variety of specialty dining venues, intimate chef tasting menus and a wine room. Post 2010 new-builds feature the alternative aft restaurant Erlebris, a lounge cum intimate dining venue that has the advantage of a glassed-in kitchen. AMA has pioneered wine and culinary river boat theme cruises, but, thus far, most of these cruises have been scheduled on off-season dates.
SMOKING:
Despite the fact that it attracts about 20% of its guests outside North America, AMA lists each of its ships as "Non-Smoking", limiting smoking to certain portions of the upper sundeck. Smoking is not permitted in any dining venue or in cabins.
SHORE EXCURSIONS
AmaWaterways offers 'set your own pace' complimentary shore excursion in each port.  The 'Gentle Walkers' take in the sites at a leisurely pace, the 'Active Walkers' group moves more quickly and therefore is able to cover more ground and 'Late Starter' is designed for those relaxed vacationers who prefer to sleep in.  Each tour is locally guided tour is facilitated through a live transmission headset system, avoiding the need to huddle-in to hear the commentary.
For the adventurous, bikes and helmets are available free of charge should you wish to explore on your own.   If you extend your riverboat cruise with a pre or post cruise stay, tour packages can be arranged including 4- and 5-star accommodations.
EVENING ACTIVITIES
Nightly performances drawn from the local onshore population can create a uniquely shallow talent pool however most guests do enjoy the onboard camaraderie and the ability to get to know many of their fellow travelers. AMA normally includes a staff talent show and a trivia contest. So far, they have resisted bingo.
SPA AND FITNESS OPTIONS
AmaWaterways vessels often do offer a fitness area complete with sauna or steam room.  Many include outdoor heated pools or whirlpools and some include a walking deck.  For the health conscious, we think the walking space trumps a small swimming pool as more desirable based on the fact a small pool serving more than a hundred guests is just not worth the risk of water-borne infection.  Beauty salons and massage service are available on all ships.  There are however significant differences between ships in the fleet which is why we tend to recommend the newer vessels.