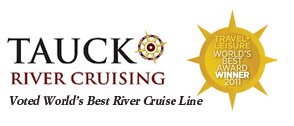 #1 – TAUCK RIVER BOATS
Current Report Card Score:  89%
RIVERBOATRATINGS BOTTOM LINE: Tauck Tours is a Connecticut-based, family-owned business that entered the river cruise business in 2006. Though more expensive on a per diem basis than its rivals, Tauck offers the best overall river boat experience in Europe currently available. Tauck's river boat programs cost more upfront but the company has zero "add-ons". Inclusive amenities now include all gratuities, all shore excursions, unlimited wine and beer with meals onboard, and airport transfers.
We believe the most significant competitive advantage enjoyed by Tauck guests is the presence of an onboard Tauck Cruise Director and three highly-visible Tour Directors, who work for Tauck. They provide a link to the quality one finds on Tauck's absolutely First Class worldwide land tours. With more than 85 years experience as a tour operator, Tauck's onboard staff presence can quickly resolve problems should they arise. In terms of overall quality and product consistency, no other river boat operator in Europe can match Tauck's overall quality.
Although it is not in any brochure or discussed online, Tauck's customer service policies far exceed those of any of their competitors. This is clearly a company that has "made things right" whenever there have been issues in the past involving water levels or service issues. Any river boat line looks good when everything is going well. Tauck manages to look good even when travel glitches occur. That has a lot to do with the fact that this is the only top-grade worldwide tour operator managing boats on Europe's major rivers. If Tauck loses a river boat client, they lose a potential lifelong client who would have traveled with them to the corners of the earth. No other river boat company has that much at risk in delivering a superior product.
OVERVIEW
Tauck has 85 years of experience offering escorted tours, but comes late to the river cruise industry, launching their first ship in 2006.  The company offers an upscale all-inclusive experience with excursions, staff gratuities, onboard meals, wine and beer with dinner, entertainment and port charges all included in the fare.  On most Tauck Programs, pre and post land programs are fairly priced and Tauck allows guests to book extra hotel nights at negotiated rates that include transfers even if the air is not booked through the line.
A popular feature is the shore dining option offering guests the chance to enjoy regional cuisine at local restaurants.  A Tauck Cruise Director supported by three additional professionally-trained Tauck Assistant Directors facilitates culturally-rich, mostly private, shore excursions and experiences.  Passengers are normally quite pleased with the personalized attention and service they receive.  Guest cabins satisfy with French balconies (sliding doors with rail guards) and floor-to-ceiling windows.  The onboard experience is relaxed, spacious, refined and elegant.
OWNERSHIP AND HISTORY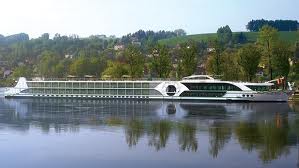 Tauck is a family-owned travel company based in Norwalk, CT.   Founded in 1925 by Arthur Tauck, his descendants are still very much involved in the business today.  The Swiss Emerald, Tauck's first company-owned river boat was launched in 2006.  Two years later the Swiss Sapphire was launched, followed by the Swiss Jewel in 2009.  The ms Treasures was christened by Robin Tauck who also serves as godmother of the ship, in an event held in Cologne, Germany in July 2011.  In 2014, Tauck took delivery of two new ships, the Inspire and Savor. These ships represent a new class of river boats for Tauck called "Inspiration Class". In 2016, Tauck will take delivery of two additional new-builds named the Grace and the Joy. Jewel-class boats in the Tauck fleet were built between 2006-2011 and carry 118 Guests. The newer Inspiration Class boats are longer and carry 130 guests.
OFFICERS AND CREW
The crew onboard is mostly European.  On average, there are 36 crew members onboard each of the Jewel Class ships and 39 crew members on Inspiration Class vessels. The crew is supplied by a Swiss company called Scylla Tours. Scylla owns all of the vessels which are on long-term lease to Tauck.
ACCOMMODATIONS
Ship accommodations are categorized in six categories on three deck levels.  The Diamond Deck houses the Suites and four Junior Suites.  One deck below, the Ruby Deck, has two Junior Suites forward and the rest are Standard Cabins.  The most basic cabins are found on the third deck, the Emerald Deck, which sandwiched between the fitness center and crew space.  Cabins are equipped with twin beds or one queen and are elevated to provide luggage storage underneath.  Be sure to bring your adapters and converters as ships are equipped with 220 volt, two pin plugs to charge electronic and the like.  Bedding is luxurious and the minibar is stocked with your favorite sodas and bottled water, complimentary.  Robes and slippers are provided for your comfort and every cabin is equipped with a silent alarm so at the push of a button help is on the way, should you suddenly become ill and need assistance.
Best Accommodations:  The 14 suites found on the top deck measure a spacious 300 square feet and feature walk-in closets, marble baths and full size tubs, showers, double-bed sofa, writing desk and double floor-to-ceiling windows. Room service is offered to suites.  Junior Suites are a comfortable alternative, with 183 square feet and a small sitting area.
Standard Accommodations:  These well-appointed and positioned cabins offer a minimum of 150 square feet and included flat screen TVs, mini bar, safes, and cabin-controlled air conditioning.
Entry-Level Accommodations:  The narrow and twisting stairway to access entry-level cabins on the lowest deck is shared by crew and those fellow passengers wanting to access the fitness center and massage room.
We are not big fans of the new Loft Cabins that have a step up small balcony area. They can be both noisy and, for some, claustrophobic.
DINING
Breakfast onboard is buffet style full of fruit, meats, cheeses, juices, breads and pastries and hot and cold cereals.  You may also order eggs, omelets, pancakes from the Chef's station.
Another buffet offers lunch consisting of salads, hot and cold dishes, a menu is also provided with various selections.  Beer, soft drinks and juices are served.
Onboard the Swiss named ships the open seating for dinner with tables for 4, 6 and 8.  After the first cocktail reception you will have many dining invitations so don't fret that you won't have table mates.  If you wish to dine at a table for 2, the Maître D will try to ensure no one else will be seated at your table.  European-style dinner is a set menu with appetizer, soup and salad as well as four or five good entrée selections including a vegetarian option.  Regional wines are served, as are soft drink, beer and juices.  Many tempting dessert choices will be offered.
An alternative to the dining room is a small intimate setting found on the top deck called the Lido bar.   Here coffee and pastries are served to the early risers and light lunch offerings served bistro style.  Cookies and fruit are available around the clock and some passengers play cards here to pass the time.  There is a well equipped self-service coffee machine for coffee, cappuccinos, espressos, various flavored coffees and hot water for tea.  A limited dinner can be served in this area with advance reservations for a party of up to 20.
A word and about DRESS and LAUNDRY:
Dinner is not a formal affair and it is not required to dress.  Men do not need to wear a suit and tie and it is unlikely that many men will wear a jacket.  Dress pants and collared shirt are the norm.  There is no self-service laundry, only valet style incurring significant onboard charges.  Laundry is collected in the early morning and returned before the end of the day.
SHORE EXCURSIONS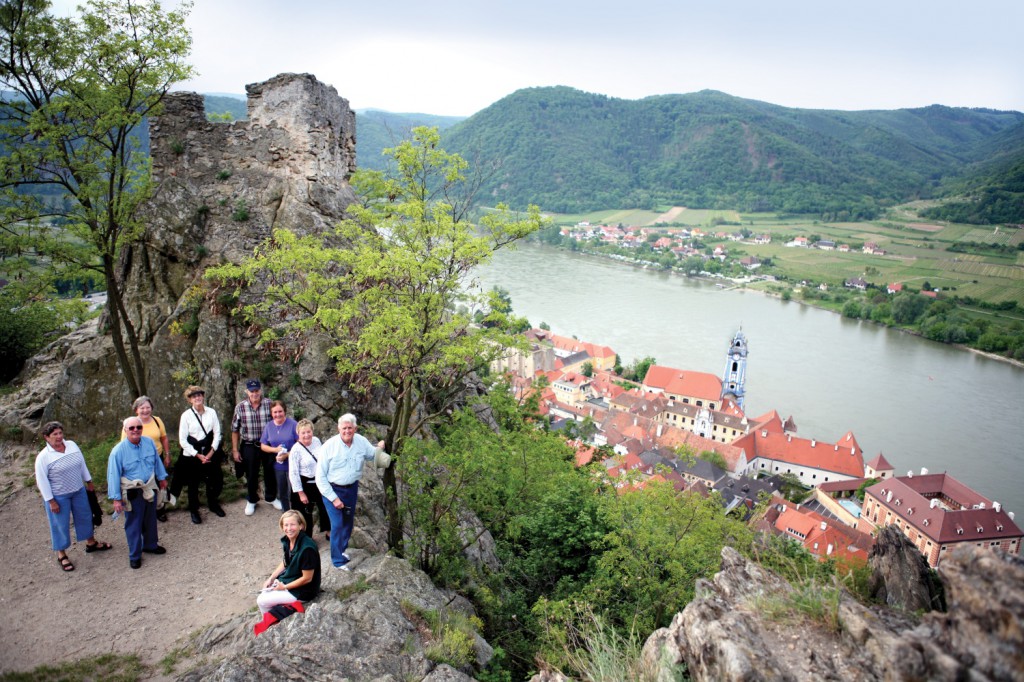 Tauck utilizes one Tour Director for every 40 passengers.  If the sailing is sold out you will find three tour directors leading three groups off the ship, plus the main Tour Director.  Active sightseeing, memorable cultural performances, insider experiences and visits to UNESCO World Heritage sites are offered on a complimentary basis.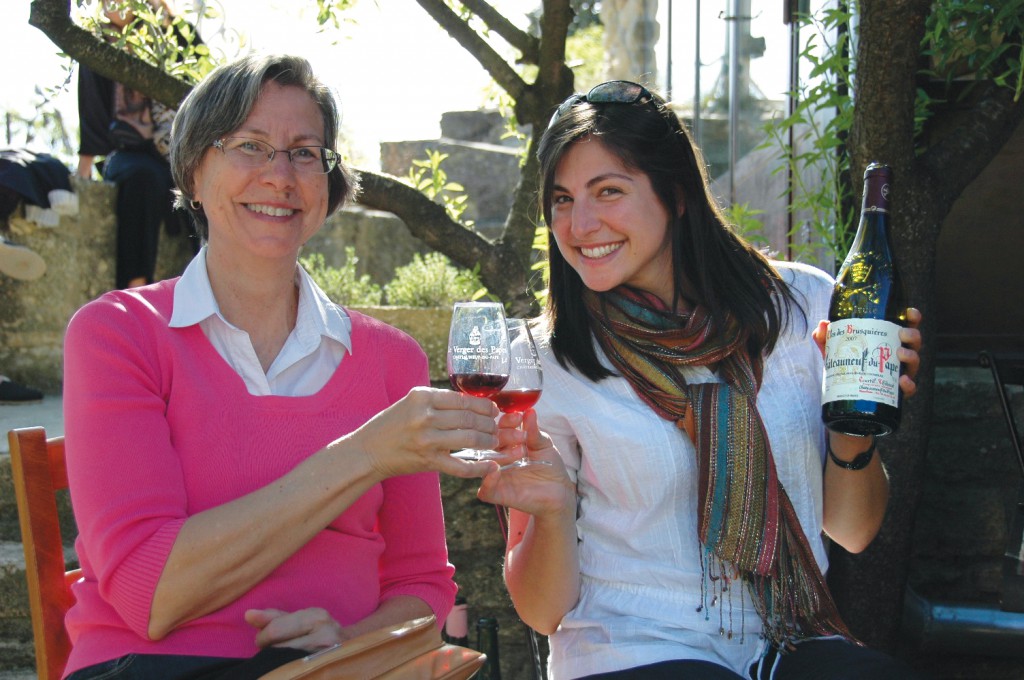 Passengers may opt to use earpieces called quiet boxes to be able to hear the guides no matter what the vantage point.  Bicycles and helmets are offered complimentary for passengers who wish to explore on their own.
EVENING ACTIVITIES
Most evening activities include a subdued musician or a movie.   Themed games, cooking demonstrations or wine tastings are also offered and special events are commemorated with a performance by local musicians and lecturers.
Wireless internet is available onboard but reception is spotty and limited.  There are three computers in the aft on the top deck of the Lido bar.  There are also two laptops that are available for cabin use loaned out in two hour intervals on a complimentary basis.  There is a small library and DVD's can be borrowed for use in the DVD players found in the suites.  Television onboard will consist of many foreign language channels as well as CNN.
SPA AND FITNESS OPTIONS
Found on the lower deck is the fitness center equipped with a few machines and free weights.  Music is provided but there is no television.  Depending on the sailing there may be a masseuse and massage table onboard.  These services are at an additional cost.  A 24 hour hot tub is found on the top deck for your relaxation.
AIR/SEA AND PROMOTIONAL PRICING
Tauck does on occasion offer special promotions on business class airfare, although they are infrequent.    Single Supplement Pricing is usually no more than 75%.  On most sailings when booking the lowest cabin category, the supplement is waived.  On select sailings, there are times when $1,000 is deducted from the single cruise fare.