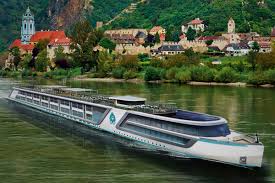 Q – I suppose you could say that we are snobs – or, put another way, exactly in the center of your primary demographic. We're in our early sixties and have been traveling extensively since I sold my electronics business.  We live in Marin County, just on the other side of the Golden Gate bridge just to complete the stereotype. I am using a local travel agent who is pushing us in the direction of Crystal over Tauck despite the fact that half our neighborhood has traveled with Tauck and they all seem to love the company. Should I fire my travel agent and work with you?
A – No, she may be giving you excellent advice. Let us share one set of stats that might indicate exactly why Crystal can provide such great service: On their new Rhine Class vessels they are carrying up to 106 guests with a crew of 68. Tauck carries 130 guests with a crew of 39.  This is one reason that Crystal costs more and rates so high. Tauck is a highly respected company on many levels with better customer service than any of its competitors. But there are some compelling reasons why your agent is recommending Crystal. Your boat carries a climate-controlled "yacht" on the stern for intimate explorations of the river. You will have a butler and an endless pour of some well-regarded California vintages. And there will be an iPad directory by your bed. Crystal was built for Californians! Dude, this is the right line for you. 
We try never to use this site to take away business from those readers who enjoy a relationship with a professional consultant. Readers who wish to work with us must fill out an application and we try to make certain the fit is mutually comfortable. We can operate with transparency because there is no shortage of upscale travelers who wish to work with us on a complimentary basis. This site's primary purpose has nothing to do with the solicitation of our readers.