TRYING TO PUT FUTURE TRAVEL PLANS IN PROPER PERSPECTIVE
AN EXCLUSIVE REPORT/UPDATE PREPARED FOR MEMBERS OF THE CHURCHILL & TUREN ELITE TRAVELER CONCIERGE CLUB
ENOUGH SAILING IN CIRCLES: WHEN CAN WE SAIL TO ALASKA AND EUROPE?
The fact is that no one knows for sure. The assumption our team has been operating on has to do with profits – Alaska and Europe are just about the two most profitable places a cruise line can operate a ship. Several cruise lines openly admit that they operate in the winter and early spring in the Caribbean with the primary purpose of keeping crew employed and happy.
So, the assumption among many of us has been that the ships will begin their "re-positioning" sailings in late April or early May in preparation for literally sold out seasons through the third and fourth quarter.
Guests sailing in June and beyond have been given some assurances in the consumer press that all will be fine as things return to normal on fastidiously-cleansed ships meeting all Covid-protocols with the full blessing of the CDC.
The reality is less optimistic as we see sailings canceled through May as the industry holds its collective breath that a new batch of political voices will be urging the prompt reinstatement of cruising.
The fact is that the cruise industry seems to have an adversarial relationship with the CDC and this has not yet been lessened by a "follow-the-science" new administration in Washington.
Two of the major cruise lines, NCL and Royal Caribbean, submitted a set of recommended protocols to the CDC that contained 74 sets of specific changes and adjustments. They were well-received and the CDC ended up coming up with a four-point plan to return to service.
But these are big "To-Do's". One of the four parts of the plan requires that cruise lines operate test cruise runs with live passengers willing to have their health monitored through the short cruise and follow-up process. We're all so hungry to put on our deck shoes that just over 100,000 cruisers volunteered to Royal Caribbean. That number of guests sailing at one time could actually fill one of RCI's ships.
One has to ask why the CDC seems to be the sole arbiter of when cruise ships can sail. It seems to me that the CDC takes on three regulatory functions rather seriously: Hospitals – Retirement Facilities – and Cruise ships. Why not schools? Why not shopping centers or entertainment venues? What about the hotel industry? Of course, they are involved in every aspect of our industry but not to the degree, it would appear, that they hold sway over the cruise industry. Here, in their official press release, is a summary of how they feel about the products that most deeply touch my heart – and perhaps yours:
 "CDC recommends that all people avoid travel on cruise ships, including river cruises, worldwide, because the risk of COVID-19 on cruise ships is very high. It is especially important that people with an increased risk of severe illness avoid travel on cruise ships, including river cruises."
We have not yet seen a directive recommending that Americans avoid hospitals or old folks' homes.
So right now, this last week in January, the world's top ten cruise lines are forced to play by the same rules as mass-market ships carrying thousands of passengers. Will the final test runs and testing associated with test runs be completed to the CDC's satisfaction in time for a semi-normal Alaska and Europe season followed by the beginning of the cruise season in Asia in the early fall?
We still have several months of preparation and I think we have better than a 50-50% chance that cruise ships will return to service by the first of June. But there are so many moving parts to all of this that we must caution that there is an equal chance that the season will be seriously delayed and that there will be one or two months of additional canceled sailings. That means departures in June and July will be affected.
WHAT IS THE CRUISE INDUSTRY DOING ABOUT VACCINATION REQUIREMENTS? WILL VACCINES BE REQUIRED – AND WHAT ABOUT THE ESTIMATED 20% OF THE POPULATION THAT IS CLAIMING THEY WILL NOT TAKE ANY VACCINE AT THIS TIME?
Several cruise lines have already indicated that guests boarding their ships anywhere in the world will be required to have been vaccinated for Covid-19 even if local regulations do not require it. Norwegian cruise line and its subsidiary Regent Seven Seas have already announced that all crew members will be required to have updated Covid vaccinations. In some cases, we expect shots to be administered on the pier prior to the start of a voyage.
Based on current polling research, travelers will not be likely to board any top-tier cruise line without assurances that everyone aboard has been vaccinated – both guests and crew. One of the challenges for the cruise lines will be extending vaccine requirements to in-port workers and delivery personnel around-the-world.
Guests who refuse to take one of the approved Covid vaccines will be denied boarding. It is likely that guests will have to agree to take vaccine precautions before their reservations are accepted.
ARE ANY SHIPS SAILING AT THIS TIME?
Yes – primarily French barges, yachts, and riverboat lines. But some smaller lux lines have been sailing for months. AMA Waterways has been operating some European itineraries throughout the summer including sailings within Germany limited to German citizens. Belmond Afloat relaunched in August with a fleet of 4-12 passenger barges. The Paul Gauguin has been sailing in French Polynesia with masks during meals and reduced passenger counts. Dream Cruises is sailing in Asia along with ships from several competitors.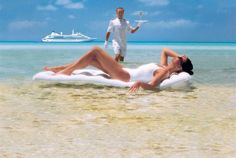 HOW WILL CRUISING CHANGE WHEN IT RESUMES?
There are going to be anticipated changes. We will rarely see anyone's lips again aboard a cruise ship. We will not be able to see actual noses. Social distancing will, of course, be practiced and hopefully, consumers will realize that the "space per guest" ratios on all ships are published and they vary tremendously. Why might it cost more to sail Silversea than Carnival? Try 61 sq. ft. of space per guest versus 21.
You've no doubt read that buffets are disappearing at sea. We wonder if that will be true in the crew mess as well. But you will see chefs ladling out portions of duck a 'la' orange from a steam table from time to time.
But what of the 43% of Americans who wish to exercise their "freedom" to go massless?  They won't get past the airport terminal. They certainly won't get onto an aircraft and they will be turned away at the pier if they take a "principled" stand to risk getting the rest of us seriously ill.
Likely, you are OK with all of this. These are welcome sacrifices. But here's one we are not at all sure will be as welcome.
The options of wandering around a port destination on one's own may be impossible in the short term. Cruise lines will not be able to certify health standards if they are no longer in control of the guest "environment". There is also the likelihood that cruisers will no longer have the option of going on privately arranged tours booked on the internet or even through their advisor.
We see this as very short-term but it will be policy until there is general acceptance of the fact that through vaccination, the Covid-19 threat, and its nasty cousins, has largely been erased. Only then, will cruising return to its menu of options ashore.
To help ease the pain, look for luxury lines to enhance the number of private shore excursions in their catalog. Private driver options will be available to accommodate those who normally would not book in-port arrangements through the ship.
Don't look for an early relaxation on these in-port restrictions. Coming off their worst 18 months 0f financial losses, the lines will not easily give up on the "captured audience" benefits of requiring that all shore excursions be purchased, at a profit, from them directly.
WHICH COUNTRIES ARE CURRENTLY 'OPEN' TO AMERICAN VISITORS?
Some Americans have continued to travel during Covid-Times. This is the current list of countries where vacations by American citizens are currently possible:
BOTSWANA – BRAZIL – COLUMBIA – COSTA RICA – CROATIA – DUBAI – ECUADOR AND GALAPAGOS – EGYPT – FRENCH POLYNESIA – KENYA – MALDIVES – MEXICO – NAMIBIA – RWANDA – TANZANIA – TURKEY – UGANDA – ZIMBABWE
WHY AM I NOT READING MUCH ABOUT PRIVATE OR GROUP TRAVEL? WHERE ARE THE GUIDELINES FOR NON-CRUISE RELATED INTERNATIONAL TRAVEL?
Group touring worldwide takes on so many forms and levels of service that comprehensive industry guidelines are not nearly as transparent as what we are seeing from the cruise industry. Tour Operators need to achieve the following:
Social distancing aboard buses, trains, and van transportation. The implication is that seats will only be filled at something like 50% capacity. Additional buses will have to be added to most tour programs along with additional staff (guides) no massless one on Bus "B" feels shortchanged.
Contracted hotels will have to be in agreement with the tour operator's policies and protocols. On multi-country tours using a variety of contracted group accommodations this may be challenging.
Some tour operators are already working on creating "Covid Concierge" type positions – a specially trained individual who will assist with monitoring and assuring that all Covid Protocols are met during all phases of touring.
The top tier tour operators are communicating with travel consultants about their specific steps to protect guests as well as posting details on their company web sites. But as much of this information is written by the marketing department, some interpretation might be advised.
We are going to see major changes in the ways that guide interact with guests all over the world. In some cases, this will mean smaller groups and an extra guide or two. But several of the major players will be utilizing new earphone technologies so members of the group can wander off a bit and still hear everything the guide is saying. This strategy will be initiated as soon as European touring begins this summer.

GIVEN THE UNCERTAINTIES STILL GRIPPING THE WORLD, WHO ARE THE LEADING TOUR OPERATORS THAT HAVE BOTH THE EXPERTISE AND FINANCIAL STAYING POWER TO DEPEND ON FOR A TRULY MEMORABLE, LUXURY OR NEAR-LUXURY EXPERIENCE?
Choosing the best tour operator is highly subjective and involves an intimate knowledge of your travel goals and the strength of the better tour operators in the part of the world you wish to visit. That said, here is a List that we know will always result in positive vacation outcomes. Most of these "Top Ten" Churchill & Turen ranked Tour Operators create group as well as private sightseeing programs:
# 1 – Abercrombie & Kent –        Worldwide Operations
# 2 – Micato Safaris –                   Africa and India                 
# 3 – Remote Lands –                  Japan and Worldwide Private Jet Touring
# 4 – Butterfield and Robinson Worldwide Bicycle, Walking, and Hiking
# 5 – Greaves Travel –                   India
# 6 – Noteworthy –                        United Kingdom                
# 7 – Artisans of Leisure –            Eastern and Central Europe
# 8 – Big Five Tours –                   South America and Africa
# 9 – Tauck –                                  Worldwide Operations
#10 -Made for Spain –                  Spain and Portugal
WHAT IS THE BIDEN ADMINISTRATION DOING THAT COULD AFFECT OUR FUTURE TRAVEL PLANS?
There is a flurry of activity but none of the just-announced travel-related measures are designed to loosen restrictions. All international travelers to the US now have to show proof of a negative Covid-19 viral test before they will be allowed to board any flight to the USA. The test must be taken within 72 hours of boarding. Now here's the really sticky part – if travelers to the US do everything right including testing negative for Covid, they will still be subject to quarantine for 7-10 days assuming they have no symptoms.
In addition, it is now mandated by an Executive Order that masks will be required in airports, on planes, trains (Yes Amtrak that means you), and buses. Flight attendants and pilots will report the identity of any passenger who refuses to wear a mask in flight and they will be arrested on arrival and/or placed on a lifetime "No Fly" list by the airline. We have a President who appears to be serious about masks. (By the way – please note that when shopping or in crowded retail environments, double masks are now recommended)
So where is this going? Strict policies for the next ninety days after which, with the cooperation of the American people, and our friends overseas, the Covid Passport will be universally accepted and travel barriers will begin to come down. Will this happen by June or July – we are hopeful but not entirely optimistic.
IS THERE REALLY A TREND TOWARD SOCIAL DISTANCING POST PANDEMIC TRAVEL?
Yes. This has been verified to our satisfaction. We are seeing record-breaking bookings of French barges, safari camps in Africa, national parks programs, and dude ranches for Manhattanites (well that may be a slight exaggeration). Backroads, a respected adventure travel group operator has added numerous private cycling and walking tours to its trips in over 60 countries. As few as four couples traveling together can take over entire departures with little exposure to other travelers.
Then there is this: Luxury RV Travel is soaring in popularity. For example, the Overseas Leisure Group offers RV luxury trips that take in Wyoming and Montana that end with a few nights at the five-star Paws Up Resort.
Travel by Private Jet and fractional ownership is trending particularly on flights within the US and to Mexico and the Caribbean of more than 3 hours duration.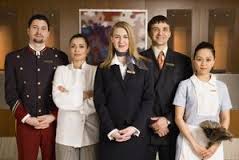 HOW WILL HOTEL STAYS CHANGE IN THE FACE OF COVID?
It is important to note that the average per night hotel room price paid in the United States in 2019 was $96.50. This means that, for most Americans, a hotel stay means a motel-type accommodation often with a single desk clerk on duty after 8:00 pm. This does not allow for a great deal of financial investment in extra-0cleaning protocols.
In the First Class and Luxury categories (designated four and five-star properties) guests can expect to see:
Social distancing regulations posted in the lobby with security personnel Assuring compliance.
Limits on the total number of guests at somewhere between 50-75% of normal capacity.
Buffets will be eliminated in favor of expanded contactless in-room dining. Hotel restaurants will, where possible, be expanded outdoors using tents and other portable structures.
Virtual fitness and entertainment will be offered.
Guests will be offered their own cleaning/sanitizing materials with instructions to always wipe interior door handles, lamp switches, TV remotes, bathroom fixtures, telephones, and water glasses (yes, especially the ones that are "wrapped".
Guests will not be aware of industry protocols. Instead, it will be left to each property to convince check-ins that their health is being protected in a technologically advanced way.
Guests who are truly savvy about their health and well-being should request that all non-essential bedding, like throw pillows and bedspreads, be moved from the room prior to arrival. Always ask that the mini-bar be emptied (It can serve as your personal frig) Always keep the bathtub filled with fresh water to aerate and moisten the dry air.
Invest in plexiglass.
We all know where this challenge will end. We will defeat Covid and we are making important progress toward medical applications learned from Covid-19 that will surely benefit our kids and grandkids. We will win this challenge. We just don't know exactly when. While perhaps not as optimistic as you might have hoped for, we hope this summary has been helpful.
Please stay well.