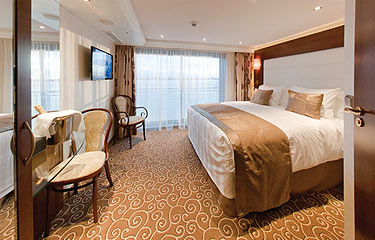 Q – We went online to book a cruise and got totally confused. Then we called an agent, at your suggestion, and got really confused. We're trying to book the Tauck Sapphire from Paris and the room descriptions are all screwed up -nothing seems to match what is in the brochure and online. We're trying to book a cabin on the Ruby deck. I just don't understand how this could happen with a company with such a great reputation. It is making me feel that we should be looking at Viking River. At least the cabins on their web site match the cabins described by the travel agent. Is anything going on at Tauck that we should know about? Have they sold their ships?
A –  Tauck doesn't own their river boats. They are designed by Tauck and built and leased from Scylla, a Swiss company that owns the boats and provides the crew.This is quite common among river boat companies. Viking River does own its own boats and is an exception in that regard.
What you are experiencing is the crossover as Tauck has redesigned your ship, as well of all of the older river boats in their fleet. In fact, the Sapphire was gutted. The biggest changes have been made to the Ruby Deck where 30 150 sq. ft. cabins were transformed into just 20 225 sq. ft. cabins. There are still fourteen 300 sq. ft. suites on the upper deck, Tauck's infamous Category 7 – the toughest cabins to confirm based on their popularity. So your confusion, and that of some of the folks you have been dealing with, has to do with Tauck's ongoing process to eliminate cabins on all of its ships and to enlarge many of its mid-range cabins substantially. The number of guests aboard the Sapphire, for example, has been reduced from 118 to just 98.
Does any of this have to do with Crystal's appearance on Europe's rivers with near five-star ships? It is more than a coincidence. Tauck is not a company that likes to settle for second-best.