THE BASICS: WHAT YOU NEED TO KNOW ABOUT CRUISING EUROPE'S RIVERS
JUST HOW POPULAR IS RIVER BOAT CRUISING?
As you explore our site, you will discover river boating the most scenic waterways of Europe is, quite literally, the fastest growing segment of the entire travel industry. During the last five years, traditional big ship cruising enjoyed an annual increase in number of guests of between 4-5%. River cruising in Europe, by contrast, has grow an annual rate of 16%. Twenty-two new river boats will be launched in the next twenty-four months.
To read the ads, each of the major river boat lines offers luxury beyond compare. Gourmet food, wonderful guides, no-hassle convenience, and excellent value are all promised to the consumer. We are certain you will not be surprised to learn much of that is hype. You've seen the ads, you've heard the buzz, and your neighbors are starting to come home with stories of their experiences. So the big question would seem to be……..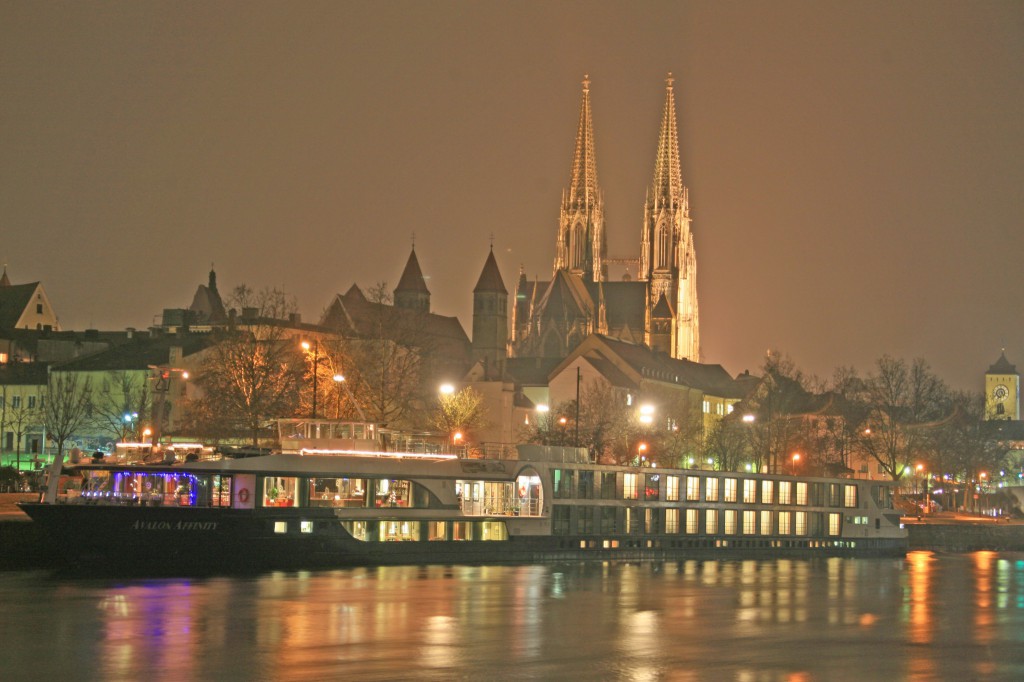 DO RIVER CRUISES DELIVER A TRUE FIVE-STAR EXPERIENCE?
Not within Europe. A few boats reach four-star status but no river boat company in Europe is currently rated five stars. Most river boats are leased and come complete with crew. The vast majority of crew members come from countries in eastern Europe where hospitality industry training is not up to US standards and English language skills are often lacking. Given current per diem costs, European river boats cannot afford to offer the levels of service, cuisine, wines, entertainment, lectures, and staffing one would expect to find on the cruise lines that have made the traveltruth.com "Top Ten Cruise Lines List".
There is also the matter of a river cruise ship's actual physical dimensions. Galleys are not large enough to offer the variety of food and the innovative cooking techniques found on many five-star cruise ships. Lecture and entertainment venues are sparse and most accommodations are built on a pre-fab basis with inadequate sound-proofing between cabins.
IF RIVER BOATS DO NOT DELIVER A FIVE STAR EXPERIENCE, WHY ARE THEY SO POPULAR?
River boats generally provide vacations that are hassle-free. There is no travel within the trip to get to interesting places. Guests aboard river boats know they are going to be able to step off their intimate boat and be in a small city or lovely village within moments. They can walk to most of the major sites and they can be devoting their complete time in port to exploring local history, walking or hiking in the nearby woods, riding bicycles about their village, shopping, or sampling local cuisine. Most river boat guests actually do several things ashore. They take the morning walking tour and then often explore on their own.
There is a real commeraderie among those who share a river adventure. Guests are almost always in sight of land, a factor that makes river cruising in Europe particularly attractive. The element of sightseeing while sailing is one of the really important differences between European cruises, where you are surrounded by land, and European river cruising, where you are surrounded by Europe. Cruises tend to stop in larger ports, those big enough to handle their specific needs. River boats ply rivers with local traffic and people living their live sin full view. It is a more intimate experience than cruising.
BUT WHAT ABOUT PRICE?
Unlike every other river boat web address, we don't scream price or list phony deals, or hype "free air" that is not really free. Here is a fact you can take to the bank: Every top river cruise consultant receives exactly the same offers, amenities, and price quotes. If we didn't, we would not represent these products. Consumers routinely have their intelligence insulted with phony deals and silly claims of exclusive pricing. Think about it. If you were CEO of a company operating small boats with only 120 people, would you want to ruin people's vacation by offering better rates to a handful of guests who might poison the atmosphere with their perceived "special deal?" We don't play misleading and insulting price games. We qualify our clients for 100% of all possible discounts and we return 100% of these discounts in the form of a price rebate.
We are the only major consumer travel site that does not accept advertising or financial support from any river boat company
Ratings Last Updated: September 10, 2014
Our ratings are based on our own independent inspections, reports from thousands of river boat consumers throughout the United States and the best quality evaluations from both the consumer and industry trade press. Our standings and scores are updated on a bi-monthly basis to include new ships, on-board policies, and product enhancements. River boat lines do not know when they are being inspected and we do not accept advertising or compensation in conjunction with our product ratings.
There is a great deal of misleading information offered to the public about the relative merits of various river boat lines. The biggest lines have the biggest advertising budgets and, often, the smaller, higher-quality cruise lines are not as well-known. We believe truly knowing as much as possible about the world's top rated lines is the best first step to planning a truly memorable cruise vacation.
I THINK WE WANT TO PROCEED. WHAT DO WE DO NEXT?
We know our site visitors are intelligent consumers and you will know what to do if you are in agreement with our approach, find our knowledge of river boating of value, and wish to work with us on a zero-cost basis. You can reach any of the travel consultants or journalists whose work appears in these pages by calling us at 630 – 717 – 7777. An experienced Churchill & Turen Ltd. river boat concierge will answer the phone. Our staff does not work on commission. We do not employ any commissioned sales agents. You will speak to a trained professional whose only agenda is matching you with the boat and itinerary that best meets your needs. Our nationwide Toll-Free number is 800 – 445 – 7979.
CRUISING EUROPE'S RIVERS: A FEW UNANSWERED QUESTIONS
Exclusive to riverboatratings.com

The implication that river cruisers have more intellectual pursuits in mind as they arrive in Europe's river banked cities and towns than those arriving in port cities on cruise ships may actually have some truth behind it.
River cruisers sign up for vacations that include touring each day. Unlike ports like Barcelona which might see 40,000 cruise guests disembarked at about the same time all headed for a quiet stroll along the Ramblas, river boats drop their guests off at smaller, interior of Europe towns, where one can actually imagine encountering locals going about their business.
But lately, a fairly significant number of river cruisers seem to be questioning the candor with which river cruises are marketed. Judging from the "reviews" one reads online and the first-hand accounts of returning guests, it seems clear that the river boat industry has been less than open about certain aspects of its operations.
To be fair, let's try to imagine that the cruise lines that operate in Europe behaved in the same way that the river boat industry does in preparing their guests for a sailing.
The first thing we might notice is an inability to differentiate between various quality levels of product. What if Carnival, Silverseas, Royal Caribbean, and Sea Dream all called themselves "Luxury Products"? What if the consumer could not tell them apart because they all use the same terminology to describe themselves?
Of course they don't. There are premium and contemporary cruise lines. But deluxe and five-star lines are a breed apart and the very top-rated cruise ships are defined by inclusive services and highly-trained staffs capable of providing personalized, by name, services. Sellers and consumers seem to comprehend the fact that sailing with three or four thousand other folks is never really a Five-Star, luxury experience. It is relatively easy for the well-versed cruise consultant to differentiate between the major brands.
That qualitative differentiation just is not available in the river cruise sector.  AMA Waterways claims it is "the top river cruise line operating in Europe………" Uniworld touts the fact that it is "truly all-inclusive" and that it is the "Luxury Boutique River Cruise" line.
Scenic Waterways screams "Luxury River Cruising" across the front of its brochure and offers up its own stamp of approval in the form of a certification that it offers "All-Inclusive 5-Star Luxury".
Viking River is in a position to be more modest. It describes itself on the cover of its 2015 brochure as the line that explores "the world in comfort". Viking claims to be the world's "most awarded" river cruise line and says that "by owning and operating our ships" they are set apart from their competition. Its many awards are listed prominently in their brochures. Viking is the only one of the major brands that seems comfortable using terms like "remarkable value" when addressing the consumer.
Tauck, promises "uncommon access" and points out that their definition of "all-inclusive" means that no options are sold and that even gratuities are included. They also claim that they provide "the world's best traveling companions", a claim some consumers might have difficulty quantifying.
Avalon, owned by Globus, claims that "We've done our due diligence pre-selecting Certified Local Guides who truly are the best in the world."The line also claims to have "the largest staterooms in the industry".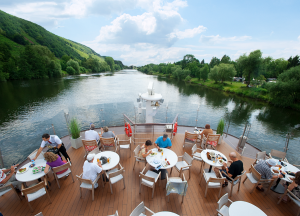 Each of these lines has won numerous awards, further blurring the lines between relative qualitative differences. Viking, for instance, wine a great many "Reader's Choice" polls, perhaps not surprising given the number of Viking past guests versus their competitors.
We recently did our own small poll of agents to determine who they considered to be the best of the cruise line brands. The results were totally inconclusive.
The top experts seem to agree that Tauck, AMA Waterways, and Scenic comprise the top three. But I would have difficulty leaving Uniworld off that list. It does surely help being Viking when it comes to clout on Europe's rivers. Viking purchased many of the former KD Rivers berths along rivers like the Rhine and Danube. They clearly have some operational clout and advantages.
In our current ratings, we name Tauck as the current leader because of the all-inclusive nature of their programs and the fact that well-trained Tauck guides are present on every sailing and on every tour.
Imagine what might happen if word got out that cruise lines were not always operating on the water. Suppose every cruise line brochure contained fine print that removed them from liability when they substituted a bus tour for a cruise vacation. Suppose your cruise director met you at the airport in Europe as you arrive for your cruise and announced that, due to the fact that the Mediterranean water was too high, you will be going on a bus tour instead.
But that is exactly what has happened to more than a few river cruise passengers.
Last year, rains combined with warming temperatures resulting in ice melting at a higher than normal rate in the Swiss Alps. This resulted in dozens of June sailings being altered or cancelled. The rate of melting snow entering Europe's primary river routes as well as the constant threat of summer draught, are factors affecting any company's ability to handle river boat schedules as advertised.
So again, one wonders at the lack of discussion of these possibilities in river boat brochures. Cruise lines will sometimes substitute one port for another as a result of poor weather or political unrest. But the fastest-growing segment of the travel industry, European river cruising, maintains a noticeable silence on issues related to river level-related alterations.
The executives we spoke to at the various river cruise lines see the summer floods of 2013 as an aberration, or as one executive put it, "a once every 100 years scenario". Our reading of the weather records does not indicate this is, in fact, true.
The river boats plying Europe's rivers are built to exacting specifications with low bridges and the possibility of high or low water playing prominently in construction. Many of the newer boat designs allow for the near total dismantling of upper deck facilities allowing for low bridge clearance.
But how are clients being advised of current weather conditions as they affect Europe's locks? One secretive German lock keeper posts on Cruise Critic's river boat forum's from time to time, reporting on current water levels with a level of detail that is almost too specific to be useful.
Anxious guests and some agents, however, read his posts in the fervent hope that they might provide advice of value to upcoming river boat guests. Information that often is not forthcoming from the companies themselves in time to avoid a flight to Europe and disappointment on arrival.
The consumer wants to know which itineraries are in greatest danger of being amended, in which months are problems most likely to arise, and how they will be notified in advance of their overseas departure of pending difficulties.
To date, it appears that their questions, and those of the agents who sell river boat cruises, are not being fully addressed.
Then there is the matter of payment in advance. Two of our largest river boat company's require that guests pay their full fare instead of deposit to secure the best of the current pricing offers. Is it fair to expect river boat consumers to assist these companies pay down their significant debt loads? In other industries, when full payment in advance is required, red flags are immediately raised. Why is no one raising flags over the pricing policies of some of the largest river boat lines on the rivers?
River boating is, an often, superlative vacation experience and problems are relatively rare. But there are some major issues related to a river boat experience that deserve more careful scrutiny and attention.
THE LATEST EUROPEAN RIVER BOAT RATINGS
TAUCK RIVER BOATS
RIVERBOATRATINGS BOTTOM LINE: Tauck Tours is a Connecticut-based, family-owned business that entered the river cruise business in 2006. Though more expensive on a per diem basis than most of its rivals, Tauck offers the best overall river boat experience in Europe currently available. Tauck's river boat programs cost more upfront but the company has zero "add-ons". Inclusive amenities now include all gratuities, all shore excursions, unlimited wine and beer with meals onboard, and airport transfers.
We believe the most significant competitive advantage enjoyed by Tauck guests is the presence of an onboard Tauck Cruise Director and three highly-visible Tour Directors, who work for Tauck. They provide a link to the quality one finds on Tauck's absolutely First Class worldwide land tours. With more than 85 years experience as a tour operator, Tauck's onboard staff presence can quickly resolve problems should they arise. In terms of overall quality and product consistency, no other river boat operator in Europe can match Tauck's overall quality.
AMAWATERWAYS
RIVERBOATRATINGS BOTTOM LINE:  Launched in 2002 by seasoned river cruise executives, AmaWaterways is generally regarded as the best of the rest after Tauck is taken out of the equation. AmaWaterways now has 15 vessels and their newest ships have top category suites with twin balconies. This line offers the solid guarantee of quality with some interesting onboard innovations. Cruisers can, for instance, dine ashore on the line's 'Culinary Delight' series of tours. We particularly like the pacing of walking tours, allowing for several levels of walker and for those who prefer to start later.  French balconies and complimentary in-room internet service is provided. AmaWaterways even offers guided bicycle touring. One gets the sense that management is constantly thinking up ways to appeal to a younger and more sophistictaed clientele. The attitude at AmaWaterways seems to be "Why can't we do that on our boats?"
Combine the above with the fact that AmaWaterways is, in our opinion "The Best Value for the Quality" in the European market and you have several compelling reasons to consider this line.
GRAND CIRCLE RIVER CRUISES
RIVERBOATRATINGS BOTTOM LINE: Grand Circle is a privately-held company that was originally established as a branch of AARP, the American Association of Retired Persons. It was sold to Alan and Harriet Lewis in 1985 who launched a river cruise division in 1998 with 60 chartered and some privately-owned vessels.  The line has always fostered a reputation of dealing with the intellectual needs of its guests and university lecturers are sometimes aboard. Grand Circle gets some high grades for the quality of its tour program. The boats are not best in class and stateroom size average a smallish 120 to 231 square feet.  The guests who sail Grand Circle have to crawl through certain hoops to book the line since no reputable travel agent works with them. Grand Circle is a bit of a travel outlaw in the sense that they do not offer guests the opportunity to have an independent travel consultant handle their bookings. This means that the consumer must work with their commission-based sales staff directly without an advocate should there be a problem. We think this is a serious matter for those considering a Grand Circle reservation but that does not detract from the general quality of their offerings and the engagement of their primarily retired clientele.
UNIWORLD RIVER CRUISES
RIVERBOATRATINGS BOTTOM LINE: Uniworld was launched in 1976 by a former airline executive who felt he could target American travelers at a time when his competitors seemed content to avoid the market. Over time, Uniworld has built an enviable reputation, winning numerous awards from Conde Nast Traveler, Travel + Lesiure, and the Zagat Guide, The company is now owned by Travel Corporation based in Bermuda. This formidable travel brand owns mid-range tour operators and well as one or two budget operators including Contiki Holdays, Trafalgar Tours, and Insight Vacations. Unlike other river boat companies, Uniworld has an interesting hotel relationship as the Corporation owns Red Carnation, an operator of upscale properties centered in London. Uniworld owns its own boats and refurbished the fleet in 2011. The line's newest vessels take full advantage of Red Carnation's design team and amenities one might associate with a fine hotel in London abound. Uniworld is a west coast-based company which accounts for a higher-than-average number of clients from California and the Pacific Northwest.
AVALON WATERWAYS
RIVERBOATRATINGS BOTTOM LINE: Avalon is a wholly owned subsidiary of mainstream tour operator Globus. The Swiss-based company is a major player in worldwide tourism, carrying more than half a million passengers annually. The Avalon fleet was designed primarily to support the Globus brand of touring. Relatively small, Avalon will operate 19 ships in Europe, the Mekong Delta, China, and Egypt by the end of 2013. Avalon's newest class of ships is called "Suite" class. The Panorama introduced in 2011 is the first of this new breed and is referred to as an "All-Suite" vessel. In river boat terms, the cabins are large at 200 square feet with sliding glass walls, but to call 200 square feet a "suite", one must be employed in a river boat marketing department. The Visionary and Vista came on board in 2012 and the Artistry 11 and Expression will join the fleet in 2013. Avalon's core guests are from North America and many have toured with one of the Globus brands. On board service and amenities are not the best in class but do satisfy those who are not travel sophisticates as well as those with budgetary concerns. Avalon charters the boats it uses outside of Europe. In 2013, the line will be working with Century Cruises in China using 400-passenger ships, the Century Legend and Paragon.